Bonfire Stew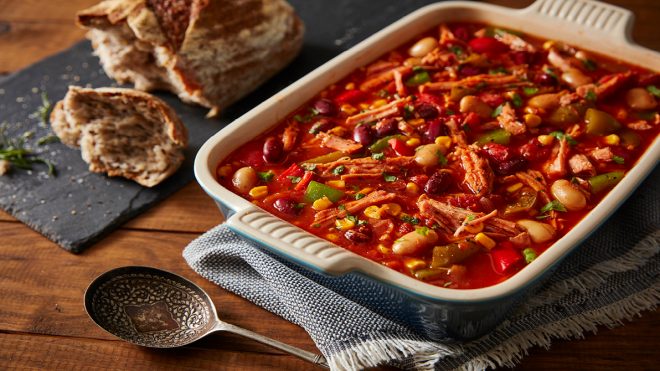 4 servings
2 hours to prepare
Ingredients
1 small piece of gammon, around 450g is ideal
1 onion sliced
3 garlic cloves crushed
1 red pepper diced
1 green pepper, diced
1 tin of kidney beans
1 tin of butterbeans
1 tin of sweetcorn
1 tbsp paprika
1 tbsp tomato pureé
1 tin chopped tomatoes
1 litre beef stock
Dash Worcestershire sauce
Instructions
METHOD
Preheat oven to 180°c / 160°c fan / 350°f / gas mark 4.
Remove all fat from gammon and put into a big pan or oven proof dish.
Put all the other ingredients in with the gammon, place the lid on and cook for 2 hours.
Shred the gammon using a couple of forks and it's ready to serve.
Chefs Tip:
You can soak the gammon overnight in cold water if you want to draw out the salt content from the meat.