Aubergine Tacos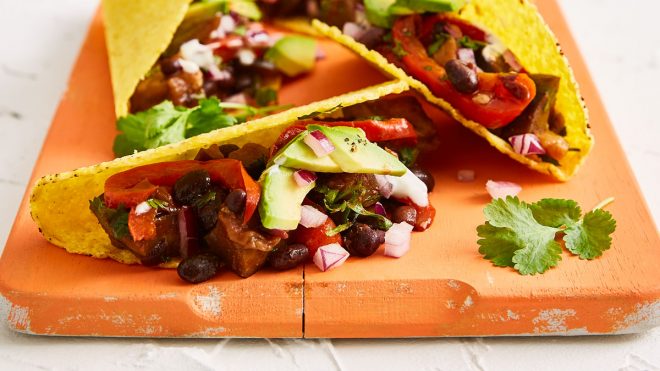 4 servings
17 minutes to prepare
Ingredients
Drizzle olive oil
2 aubergines, medium dice
1 red pepper, sliced
3 cloves garlic, crushed
4tbsp chipotle sauce
400g tin black beans, drained and rinse
10g coriander, chopped
Salt and Pepper
To Serve
8 taco shells
Creme fresh
1 avocado, sliced
1 red onion, chopped
Small bunch fresh coriander, chopped
Chipotle sauce
Instructions
Quick and easy to create, these aubergine tacos are delicious for a vegetarian tea.
Heat a drizzle of oil in a large saucepan.
Add the aubergine and red pepper, sauté for 5 minutes.
Add the garlic and sauté for 1 minute.
Add the chipotle sauce, black beans and 125ml of water. Bring to the boil, reduce to a simmer and cook for 5 minutes.
Remove from the heat, add the chopped coriander and season to taste.
To serve, spoon the aubergine mix into taco shells and top with a dollop of crème fresh, avocado, red onion, coriander and extra chipotle sauce.
Chefs Tip
Swap the tacos for fajita wraps if desired.