Tasty Toast Toppers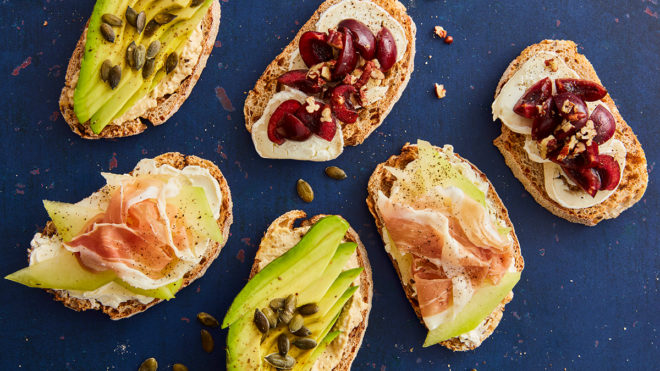 1 servings
5 mins to prepare
Ingredients
Cream cheese, Melon & Parma Ham
1 slice sourdough, toasted
2 tsp cream cheese
3 slices melon
1 slice of Parma ham
Avocado, Hummus & Pumpkin Seed
1 slice sourdough, toasted
2 tsp hummus
1/4 avocado, sliced
1 tsp toasted pumpkin seeds
Sea salt
Goats Cheese, Cherry & Pecan
1 slice sourdough, toasted
3 slices goats' cheese
3 cherries, stoned and halved
2 pecan, chopped
Instructions
METHOD
Cream Cheese, Melon & Parma Ham
1 Spread the cream cheese onto the toast, arrange the melon slices on top and finish with a slice of Parma ham.
Avocado, Hummus & Pumpkin Seed
1 Spread the hummus on the toast, arrange the avocado slices on top, scatter over the toasted pumpkin
seeds and season with sea salt.
Goats Cheese, Cherry & Pecan
1 Arrange the goats cheese on top of the toast, top with the sliced cherries and scatter over the chopped pecans.
CHEF'S TIP These make a great brunch selection on toasted bagels or to serve as open sandwiches as a light lunch. These toppings are great canapé ideas, why not serve mini versions at your next party.