Blue Cheese and Guinness Onion S'mores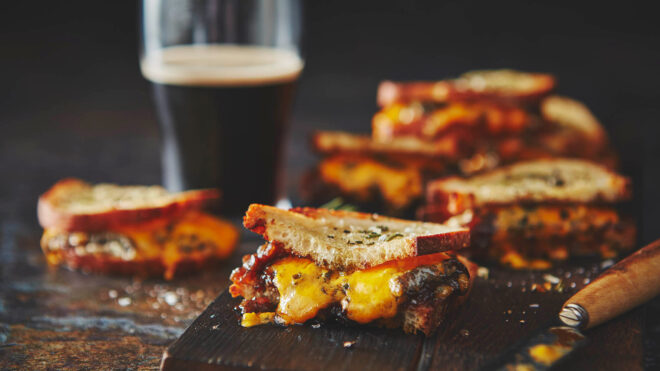 8 servings
20 minutes to prepare
Ingredients
1 large onion, sliced
25g salted butter
200ml Guinness
8 thin slices of Sourdough
100g Philadelphia garlic and herb soft cheese
200g Blacksticks blue cheese
1 small bunch chives, chopped
Instructions
Method:
1. Pre heat the oven to 180°c /160°c Fan/356°F/Gas Mark 4.
2. Thinly slice the onion and caramelise in butter in a frying pan.
3. Add the Guinness and reduce until the onions are soft and the liquid has reduced by half.
4. Cut the thin slices of sourdough in half and spread each half with the cream cheese.
5. Add a spoonful of Guinness onions to half of the slices of bread and top with some blue cheese.
6. Place the remaining slices of bread on top to form small sandwiches.
7. Bake in the oven for 8 minutes until the cheese is melted.
8. Serve and garnish with a sprinkle of chopped chives.
Chef's Tip:
Try making these on a BBQ, place the topped bread pieces onto a tray and place directly onto the hot BBQ, close the lid on the BBQ for 2-3 minutes to melt and char the cheese.