Fish Gratin with a Garlic Crumb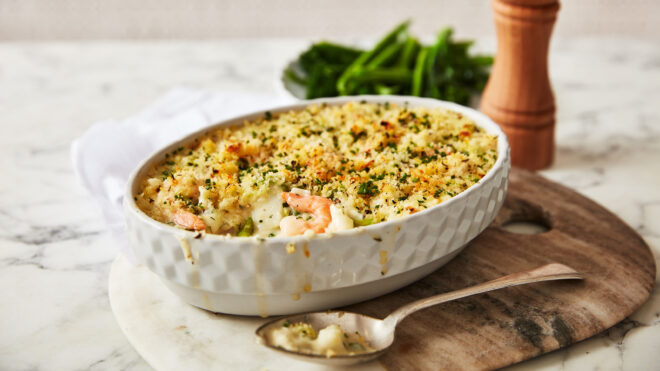 4 servings
15 minutes to prepare
Ingredients
50g butter
2 shallots, sliced
8 spring onions, sliced
500ml milk
300ml double cream
2 tbsp plain flour
2 tsp dijon mustard
1 pack Ramus fish mix
1 tbsp chopped dill
1 pack Booths Tenderstem® and green beans
For the crumb mix:
25g butter, melted
50g Panko breadcrumbs
2 garlic cloves, crushed
1 tbsp fresh chives, chopped
Salt and pepper, to taste
Instructions
Method:
Pre heat the oven to 180°C / 160° Fan / 350°F/ Gas Mark 4.
For the fish mix, melt the butter in a pan then add the sliced shallots and sliced spring onions and cook gently until soft.
Heat the milk and cream in a separate pan and keep warm.
Add the flour to the shallot mix and stir well making sure it is all combined.
Add the milk and cream mix 1 tbsp at a time and stir well to form a smooth sauce.
Once all the milk has been added, stir in the mustard and Ramus fish mix.
Add the chopped dill and season to taste then tip the mix into an oven proof dish.
For the crumb mix, melt the butter in a pan and add all the other ingredients. Remove from the heat and keep to one side.
Scatter the top of the fish with the crumb mix and bake in the oven for 15 mins.
Serve with Booths Tenderstem® and green bean mix.
Chefs Tip:
Try adding some grated gruyere or some freshly grated parmesan to the bread crumb mix.