Dirty Pizza Fries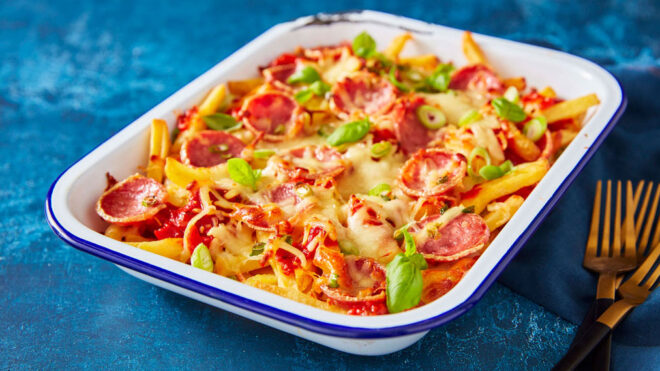 4 servings
5 minutes to prepare
Ingredients
400g frozen chips
125g grated mozzarella
3-4tbsp ready-made pizza sauce
75g sliced pepperoni or salami
2 spring onions, finely sliced
Handful of basil, to serve
Instructions
Method:
Preheat the oven to 180°C/160° Fan/350°F/Gas Mark 4 and cook the chips for 25-30 minutes until golden.
Drizzle the spoonfuls of pizza sauce over the cooked chips and sprinkle with the grated mozzarella and spring onions.
Then, arrange sliced pepperoni or salami over the top and place back into the oven for about 10 minutes, until the cheese has melted, and the pepperoni is cooked.
Serve with a sprinkling of fresh basil.
Chefs tip:
You can also try drizzling with a cheese sauce, jalapeño and a sprinkle of paprika and coriander.