Exotic Mushroom Mixed Bento Box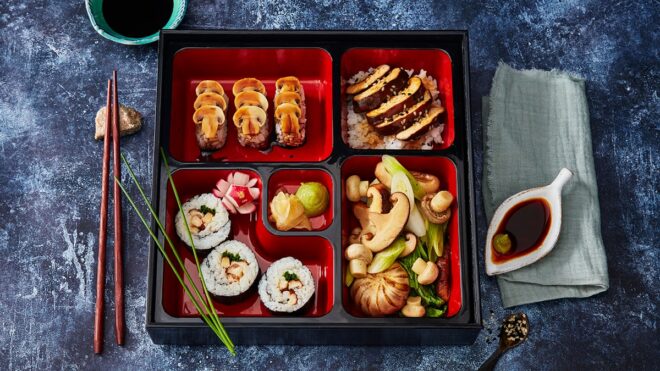 2 servings
20 mins to prepare
Ingredients
For the sushi rice
100g sushi rice
25ml white rice vinegar
25ml mirin
Mushroom Nigiri
60g sushi rice, cooked
6 baby button mushrooms, grilled
Wasabi
2 tsp soy sauce
Grilled Chestnut Teryaki Mushroom
50g sushi rice, cooked
2 chestnut mushrooms
20g teryaki sauce
1 pinch of sesame seeds
1 pinch of nigella seeds
Mushroom sushi roll
1 nori seaweed sheet
30g sushi rice cooked
30g oyster mushrooms, pan fried
1/2 pack of fresh chives
Stirfry Mushrooms
1 tbsp vegetable oil
2 shiitake mushrooms
6 baby button mushrooms
2 chestnut mushrooms
1 head of pak choi
2 spring onions
1 tsp sesame oil
1 tbsp soy sauce
1 clove of garlic, crushed
1 pinch of chilli flakes
1/2 lime, juiced
Garnishes
Wasabi
20g sushi pickled ginger
soy sauce
Instructions
METHOD
For the sushi rice, cook as per the pack instructions, then add the
white rice vinegar and mirin to season.
For the mushroom nigiri – shape 6 small balls of sushi rice into thumb sized pieces. Top each one with a dot of wasabi, add 1 sliced grilled baby button mushroom and brush with some soy sauce.
For the grilled chestnut teriyaki mushrooms – grill the mushrooms for a couple of minutes, brush with teriyaki sauce and slice into 4/5 pieces. Place onto a spoonful of cooked sushi rice. Garnish with a sprinkle of sesame and nigella seeds.
For the sushi roll – lay out the slice of seaweed, shiny side down on a sushi rolling mat or a clean cloth. Evenly spread the sushi rice on the seaweed. Place the grilled oyster mushrooms and chives in a neat row horizontally in the middle of the rice. From the bottom, roll the seaweed and rice on your mat or cloth over the mushroom and chives and squeeze to form a roll. Continue to roll until you have a perfect even cylinder and cut into 6/8 pieces.
For the stir fried mushrooms – wash and slice all of your ingredients. Heat the veg oil in a pan and quick fry for 1 minute. Then add the chilli flakes, garlic, soy sauce, sesame oil and lime juice.
Assemble the plate or bento box with your mushroom creations and garnish with pickled ginger, wasabi and soy sauce.