Mushroom Bolognese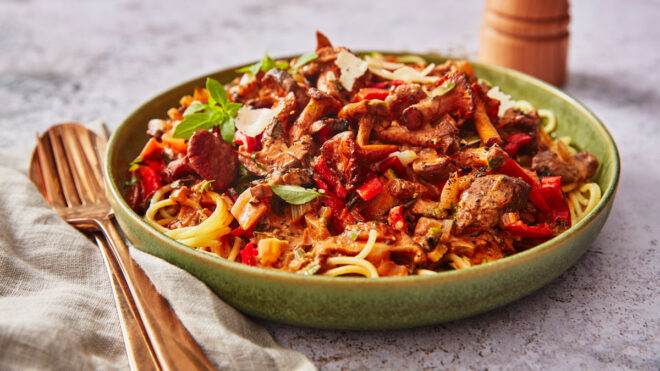 4 servings
10 mins to prepare
Ingredients
1 tbsp olive oil
1 white onion, finely diced
1 carrot, finely diced
1 stick celery, finely sliced
2 cloves garlic, crushed
250g of Portobello mushrooms, finely chopped (or any mushrooms of choice)
100g wild mushrooms
1 courgette, cut into semi circles
1 red pepper, cut into strips
Handful of fresh basil
2 tbsp tomato purrée
300ml vegetable stock
200g cooked spaghetti
Instructions
METHOD
Heat the oil in a large pan and sauté the onion, carrot and celery for 5 minutes or until softened.
Add the courgette, garlic, mushrooms and pepper then cook for a further 5 minutes.
Add the basil and tomato purée and cook for a further 2 minutes. Add the stock and simmer for a further 10 minutes.
Serve with cooked spaghetti and a sprinkling of basil and grated vegetarian Italian style hard cheese.
Chefs Tip: This is the perfect recipe for using up any leftover vegetables in the fridge. You could add tinned tomatoes too.