Mushroom and Courgette Strudel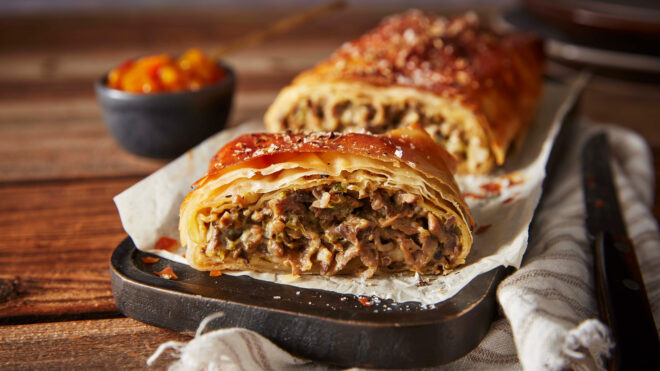 4 servings
45 minutes to prepare
Ingredients
1 onion, finely diced
2 garlic cloves, crushed
50ml vegetable oil
1 courgette, grated
500g mushrooms, grated
1tsp dried thyme, plus more to garnish
100g cream cheese
1 pack filo pastry
50g butter, melted
Salt and pepper to taste
Instructions
Method:
1. Gently fry the diced onion and garlic in the vegetable oil until soft.
2. Add the grated courgette and mushroom and continue to fry until all the liquid has evaporated.
3. Add the thyme and season with salt and pepper to taste.
4. Remove from the heat and allow to cool then fold in the cream cheese.
5. Layer 6 sheets of filo pastry, brushing each layer with melted butter.
6. Pre heat the oven to 200°C/180°C Fan/400°F /Gas Mark 6.
7. Place the cold mushroom filling in the middle of the pastry and fold over the pastry until it fully en-cases the filling without any gaps.
8. Brush with more butter and place onto a greased and lined baking tray.
9. Sprinkle with dried thyme and bake in the oven for 25-30 minutes.
10. Serve with salad and your favourite chutney.
Chef's Tip
Try adding a few drops of truffle oil to the mushroom mix to add a luxurious depth of flavour.