Herby Pork Meatballs with Linguine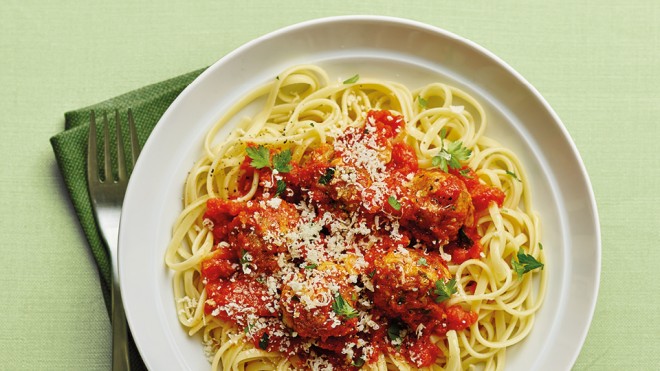 4 servings
Cook 25 mins, 20 mins to prepare
Ingredients
300g leftover pork, chopped into pieces
75g fresh breadcrumbs
I small lemon, grated zest
2tbsp chopped fresh flat leaf parsley
1 large egg
2tbsp olive oil
1 small onion, finely chopped
2 cloves garlic, finely sliced
700g passata
400g linguine or spaghetti pasta
4tbsp fresh Parmesan cheese, finely grated
Instructions
1 Place the pork in a food processor and pulse a few times until you have a coarse, mince-like mixture. Transfer to a bowl and stir in the breadcrumbs, lemon zest, parsley and a pinch of salt and ground black pepper. Add the egg and mix until the mixture all comes together. Shape into about 20 small meatballs.
2 Heat half the olive oil and fry the meatballs for a few minutes in a large frying pan until golden all over. Set aside.
3 Add the remaining oil to the frying pan, heat then add the onion and cook for 5 minutes until starting to soften. Stir in the garlic and cook for 1 minute.
4 Pour in the passata, bring to a gentle simmer and cook for 10 minutes, adding a little extra water to loosen the sauce if needed.  Add the meatballs and cook for a further 10 minutes stirring into the sauce carefully.
5 Meanwhile, put a large pan of water onto boil and cook the linguine or spaghetti according to packet instructions. Drain and serve in bowls topped with the meatballs and sauce. Serve scattered with Parmesan cheese.
LOVE YOUR LEFTOVERS
If you are going to store leftover roast to make this recipe, cool it as quickly as possible (ideally within 90 minutes) cover it and place into the fridge. Always use your leftovers within two days of storage. Ensure you cook this recipe until it's steaming hot throughout and importantly, never reheat leftovers more than once.