Whole Roasted Cauliflower with Festive Stuffing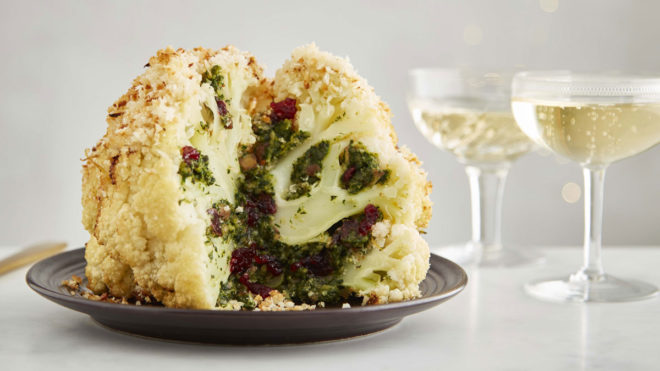 6 servings
1 hour to prepare
Ingredients
1 large cauliflower
A drizzle of olive oil
2 shallots, chopped
3 garlic cloves, sliced
10g sage
100g spinach leaves
50g breadcrumbs
1 egg
50g cooked chestnuts, chopped
25g dried cranberries
2 lemons, zest only
Salt and pepper
Instructions
Serve up this whole roasted cauliflower with festive stuffing as a vegetarian alternative to a Christmas meat roast.
Method
Pre-heat the oven to 180°C (fan)/400°F/gas mark 6.
Trim away the leaves from the cauliflower. Bring a pan of salted water to the boil. Place the cauliflower in the pan stem side down and boil for 5 minutes. Remove and allow to cool.
Heat the oil in a frying pan. Sauté the shallots for 5 minutes. Add the garlic and sauté for 1 minute. Add the sage, spinach and 25g of the breadcrumbs, cook for 3 minutes. Place the mix into a blender, add the egg and blitz to a smooth paste. Add the chestnuts, cranberries and zest from one lemon, mix well and season with salt and pepper. Spoon into a piping bag.
Remove the core from the cauliflower to create a hollow. Pipe the filling into the hollow. Place the filled cauliflower onto a baking tray lined with baking paper and cook in the oven for 20 minutes.
Mix the remaining breadcrumbs and lemon zest together. After 20 minutes drizzle the cauliflower with olive oil and scatter over the breadcrumbs. Return to the oven for 10 minutes or until golden brown and crisp. To serve, slice into wedges and serve with all the Christmas trimmings.