Quick Thai Red Cauliflower Curry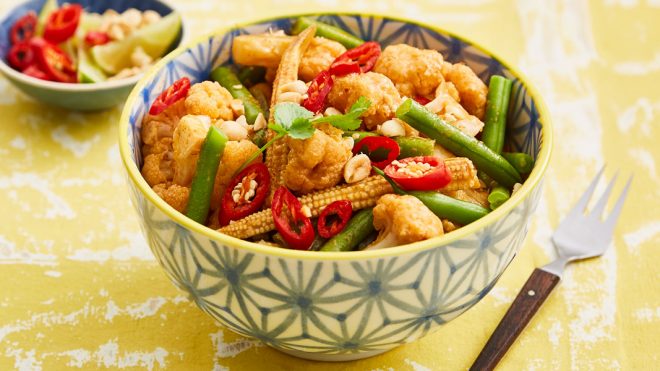 4 servings
17 minutes to prepare
Ingredients
Drizzle of olive oil
2tbsp Thai red curry paste
1 cauliflower, cut into florets
1 can coconut milk
250ml vegetable stock
100g green beans, halved
150g baby sweetcorn, halved
TO SERVE
Noodles of choice
Lime wedges
Coriander leaves
1tbsp chopped peanuts
1 red chilli, sliced
Instructions
Ready in just 17 minutes this vegetarian red Thai cauliflower curry is delicious, made super easy by using a ready made curry paste, feel free to make your own if you prefer.
Heat a drizzle of olive oil over a medium heat. Add the curry paste and cook for 2 minutes.
Add the cauliflower florets and cook for 1 minute.
Add the coconut milk and vegetable stock, bring to the boil and reduce to a simmer, cook for 3 minutes.
Add the green beans and baby sweetcorn. Simmer, covered for 5 minutes. Whilst this is happening prepare a nest of noodles per person according to the packet instructions.
Check that the cauliflower florets are tender, season to taste and spoon into warmed serving bowls.
Garnish with lime wedges, coriander leaves, chopped peanuts and sliced red chilli.
Chef's Tip
Swap the Thai Red curry paste for Thai Green curry paste for a milder version of this dish.