Naan Topped Chicken Tikka Pie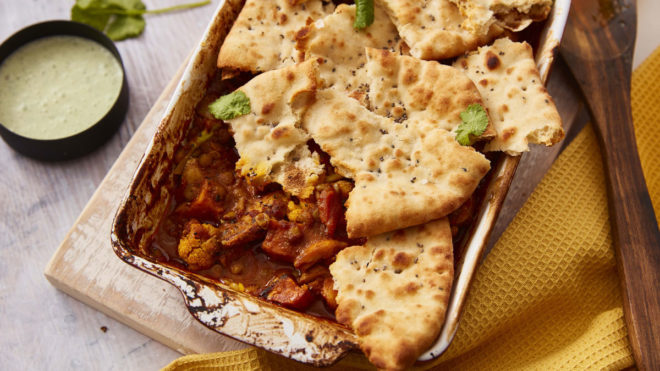 4 servings
50 minutes to prepare
Ingredients
3 naan breads
6-8 skinless, boneless chicken thighs, diced
3-4tbsp tikka pasta
1/2 cauliflower, chopped into florets
1 onion, diced
2 sweet potatoes, peeled and diced
125g cooked green lentils
1 tin chopped tomatoes
5tbsp natural yoghurt
5tbsp mango chutney
250ml chicken stock
Fresh corainder, roughly chopped
For the yoghurt mint dressing
8 sprigs fresh mint
2tsp lemon juice
1 clove crushed garlic
220g natural yoghurt
Sea salt and cracked black pepper
Instructions
A hearty, family friendly meal, this chicken tikka 'pie' is the perfect fakeaway!
Preheat oven to 180ºc / 356ºf / gas mark 4.
Boil a large pan of water and blanch the cauliflower for 2 minutes. Remove the cauliflower with a slotted spoon and place to one side, keeping the water in the pan. Add the sweet potato to the water and cook for 5 minutes, then drain.
Mix the chicken thighs with the tikka paste until you have an even coating.
Add the diced onion to a deep frying pan on a medium heat. Gently cook until softened.
Add the coated chicken thighs to the pan and seal on a high heat. Once the chicken thighs are sealed, reduce the heat back down to medium heat.
Add the chopped tomatoes, mango chutney, green lentils, cauliflower and sweet

 

potato to the pan of chicken.
Now add the chicken stock and bring to a gentle simmer for a few minutes. Take the pan off the heat and stir in the yoghurt.
Transfer the contents of the pan to a medium sized oven proof dish.
Tear up the naan breads and evenly distribute over the filling until the surface is well covered.
Cook for 25-30 minutes in the oven until bubbling and golden. Serve with mint yoghurt dressing and a sprinkle of fresh coriander.
For the yoghurt dressing: place all the ingredients into a blender and pulse until smooth.