Gluten Free Winter Vegetable and Feta Tart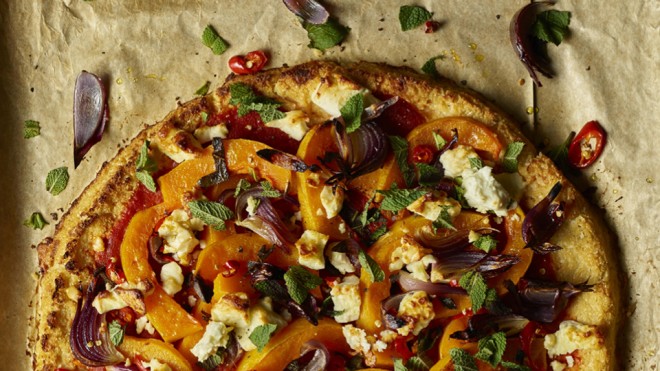 4 servings
1 hour to prepare
Ingredients
For the Base
1 large cauliflower, broken into florets, about 750g prepared weight
100g ground almonds
2 eggs, beaten
For the Topping
1 large butternut squash, peeled and cut into wedges, about 750g prepared weight
2 red onions, cut into wedges
1 large red chilli, roughly chopped
Small bunch fresh sage, roughly chopped
2tbsp olive oil
3tbsp passata
200g feta cheese, crumbled
Small bunch fresh mint, roughly chopped
Instructions
This delicious vegetarian tart makes a spectacular alternative to the classic main course. Instead of a traditional pastry, the base is made from a combination of cauliflower, eggs and ground almonds.
1 Preheat the oven to 200°C/fan 180°C/gas mark 6. Place the cauliflower florets in a food processor and blitz until coarsley chopped (you might need to do this in two batches). Place in a large bowl and cover with cling film and cook in a microwave on high for four minutes. Tip into a clean tea towel and squeeze out excess liquid. Tip back into a bowl and mix with the ground almonds, eggs and seasoning.
2 Line a large baking tray with baking parchment. Tip the cauliflower mixture into the centre of the tray and press into a 30cm round to make the tart base – making it thicker at the edges to make a crust. Bake for 15 minutes until golden brown and starting to crisp at the edges.
3 Meanwhile toss the butternut squash wedges with the red onion, chilli, sage and olive oil and spread out on another large baking tray and roast alongside the cauliflower for 15 minutes until starting to turn golden and tender.
4 Spoon the passata over the cauliflower base, then top with the squash and onion and finally scatter over the feta. Roast for a further 12–15 minutes until the vegetables and feta are golden and the base is crusty. Serve scattered with fresh mint and serve cut into wedges.