Seafood Burger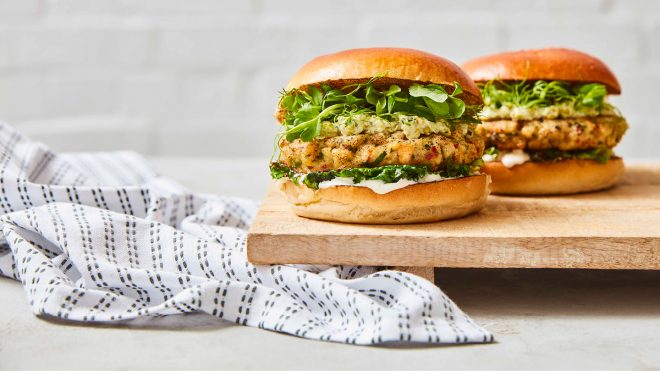 4 servings
10 mins to prepare
Ingredients
For the burger
250g cod fillet, skin removed
150g raw prawns
100g crab meat
50g breadcrumbs
1 egg white
1 shallot
1 red chilli
1/2 lemon, zest only
2 tbsp coriander
Salt and pepper
A little olive oil to brush
For the smashed pea mayo
75g peas, cooked
75g mayonnaise
1/2 lemon
1 tbsp coriander, chopped
Salt and Pepper
To Serve
2 little gem hearts
4 brioche buns
4 tsp mayonnaise
A handful of pea shoots
1 bag mixed salad
Instructions
METHOD:
For the burgers, place all of the ingredients into a food processor and blitz to combine. Divide the mixture into 4 and shape into patties. If the mix gets a bit sticky, wet your hand, this will make the mixture easier to work with. Place the patties onto a baking tray lined with baking paper and chill in the fridge for 45 minutes.
For the smashed pea mayo, place the peas into a bowl and crush using the back of a fork. Add the mayonnaise, zest from ½ a lemon, one tablespoon of lemon juice and chopped coriander. Season to taste with salt and pepper.
To serve, brush the seafood patties with a little olive oil. Cook on a BBQ for approximately 4-5 minutes on each side or until piping hot and cooked through.
Cut two middle slices from each little gem heart (use the ends in a salad bowl). Griddle on the BBQ for 2 minutes on each side.
Slice the brioche buns in half and toast on the BBQ for 1 minute.
To assemble, spread the bottom of each bun with mayo. Top with a griddled little gem slice, seafood burger and finish with a spoon of smashed pea mayo and a handful of mixed salad. Garnish with pea shoots.
CHEF'S TIP
Why not swap the cod for salmon and change the coriander for dill for a twist on this seafood burger. The smashed pea mayo is a great accompaniment for all seafood, perfect to enjoy dolloped on oven baked fish at home.