Spanish Red Pepper Salad with Prawns in Garlic and Chilli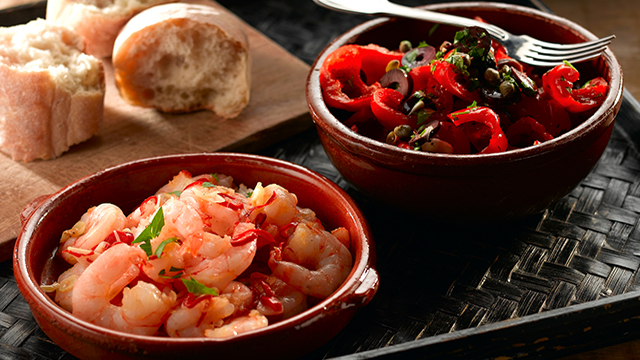 4 servings
30 mins to prepare
Ingredients
For the red pepper salad
285g jar Spanish red peppers
1 garlic clove, thinly sliced
1/2tsp sherry vinegar
1tbsp Booths Extra Virgin
Spanish olive oil
1tbsp capers
5 black olives, sliced
1tbsp flat leaf parsley, chopped
Salt & pepper to taste
For the prawns
1tbsp Booths Extra Virgin
Spanish olive oil
2 red Chillies, de-seeded and thinly sliced
3 garlic cloves, sliced
400g king prawns
Juice of ½ lemon
Instructions
For the Salad
Take the peppers out of the jar and cut into bite size pieces and pop into a bowl.
Mix the olive oil with the vinegar, garlic and parsley then pour over. Scatter olives and capers on top.
For the Prawns
Heat the olive oil in a frying pan, add the garlic and chilli and fry for 1-2 minutes until you can really smell the aroma. Then add the king prawns and cook for 3-4 minutes turning every so often.
Finish with fresh lemon juice and serve whilst hot with warm bread.