Grilled Tuna Steaks with Lemon Caper Butter and Autumn Mash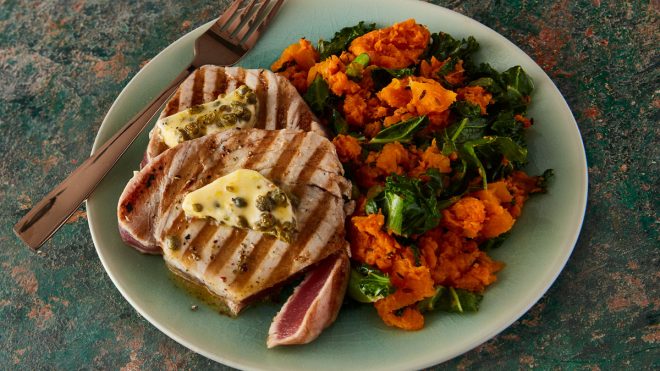 4 servings
25 minutes to prepare
Ingredients
2 sweet potatoes, peeled and diced
2 carrots, peeled and diced
100g butter, softened
25g capers, chopped
1 lemon, zest only
1tbsp cumin seeds
25g butter
75g kale, shredded
Drizzle oil
4 tuna steaks
Salt and pepper
Instructions
Sometimes simple suppers are the best, and this grilled tuna dish with its classic flavours is one of those. If you don't have time to make your own flavoured butter, why not ask at the fishmonger counter in store for one of our ready made ones?
Method
Bring a pan of salted water to the boil, add the diced sweet potato and carrot. Cook for 15 minutes or until tender. Drain and set to one side.
Place the 100g softened butter, capers and lemon zest into a bowl, season with salt and pepper and mix well. Spoon onto a square of parchment paper and wrap to form a cylinder shape. Twist the ends and place into the fridge to chill.
Heat a frying pan over a medium heat, add the cumin seeds and dry fry for 3 minutes or until they become fragrant.
Add the 25g butter to the frying pan to melt. Add the kale to the pan and sauté for 5 minutes.
Add the cooked sweet potato and carrot, mash with a fork and season to taste.
To cook the tuna, heat a griddle pan over a high heat. Brush each tuna steak with a little olive oil and cook for 1 minute on each side.
Top each tuna steak with a slice of lemon caper butter and serve with a dollop of autumn mash.
Chefs Tip
This butter is delicious with white fish, salmon and even on steaks. Make a double batch, wrap in parchment paper and freeze for up to 3 months. To cook the perfect tuna steak, use a non-stick griddle pan, oil the fish not the griddle, and heat the pan to smoking hot. Grill for 1 minute on each side to ensure the centre stays pink.
Wine Match – Louis Jadot Macon Villages Blanc
Fresh, clean and fruity with subtle green apple and pear flavours and a touch of creaminess on the palate means that this white wine works exceptionally well with our simple Tuna Steak and Caper Butter Sauce recipe. Find it in the French white wine section.