Puy Lentil and Tuna Salad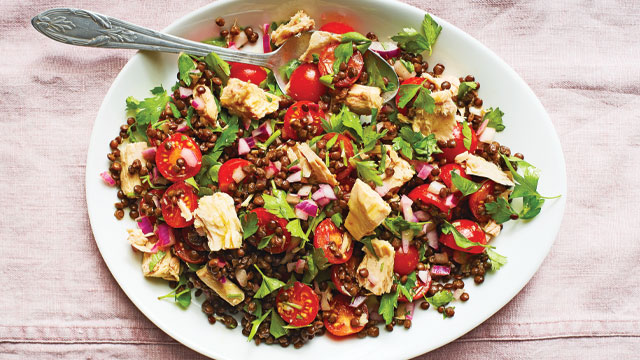 2 servings
10 minutes to prepare
Ingredients
1 small red onion, finely chopped
Juice of 1 lemon
250g pouch ready-to-eat Puy lentils
A small bunch of flat-leaf parsley, roughly chopped
200g cherry tomatoes, halved
200g tuna in spring water
1 tbsp extra-virgin olive oil
Freshly ground black pepper
Instructions
This is a super quick recipe that's really tasty. It uses ready-cooked Puy lentils for the ultimate healthy supper.
Preparation time 10 minutes
No cooking needed
1. Mix the red onion with the lemon juice in a small bowl and leave for about 5 minutes.
2. Put the lentils in another bowl. Add the parsley, tomatoes and tuna and toss together gently. 3. Stir in the red onion and lemon juice, add the olive oil and season with a good grinding of black pepper.