Couscous Salad Lunchbox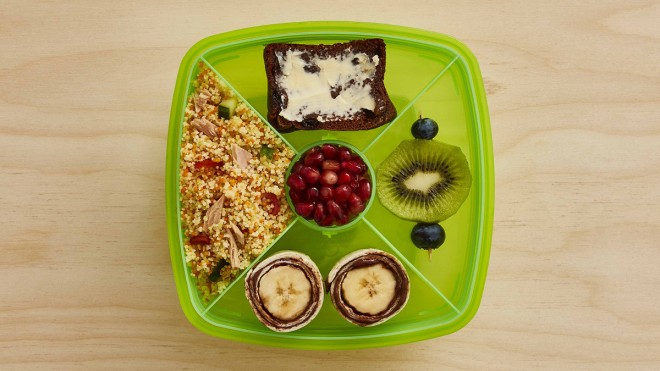 1 servings
10 minutes to prepare
Ingredients
Couscous
1 tin tuna
Fresh tomatoes
Cucumber
Malt loaf
butter
1 kiwi
Handful blueberries
1 banana
Chocolate spread
1 wrap
Pomegranate seeds
Instructions
A scrummy lunchbox idea, for little ones or for yourself!
Make up the cous cous according to packet instructions
Add flaked drained tuna, freshly chopped tomatoes and cucumber.
Buttered malt loaf slice.
Kiwi and blueberry skewer. Simply add the chopped kiwi and blueberries directly to the lunchbox if not using cocktail sticks.
Pomegranate seeds.
For the Banana and chocolate roll:
Spread chocolate spread thinly over a tortilla wrap.
Roll up around a peeled banana and chop into manageable pieces.
We don't advise using cocktail sticks for young children. 
Please take note of any nut policy your child's school may have in place before preparing any nut dishes for lunchboxes.