Chilli Beef Burger with Lancashire Cheese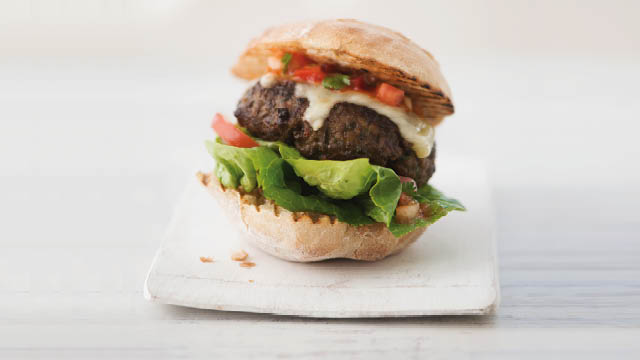 4 servings
30 mins to prepare
Ingredients
500g mince beef steak
1 small onion, roughly chopped
2 spring onions, roughly chopped
2 garlic cloves, crushed
1 red Lancashire chilli, de-seeded and chopped
2 tsp olive oil
20g fresh chopped coriander
1 free-range egg yolk
1 tsp Dijon mustard
20g finely grated Lancashire cheese
Salt and fresh milled pepper
8 slices Lancashire cheese
1 head little gem lettuce
2 tomatoes, sliced
4 burger buns of your choice
Instructions
Place the onion, spring onion, garlic and chilli in a food processor and pulse until finely chopped. Gently cook this mixture in the olive oil over a medium–low heat until soft, then leave to cool completely.
Place the beef mince into a mixing bowl, season with salt and pepper and mix. Now add the cooled onion and chilli mixture, grated cheese, coriander, Dijon mustard and egg yolk, and mix really well until all the ingredients look evenly incorporated. Shape into 4 burgers and pop into the fridge for about 30 minutes.
These burgers can be cooked on a barbecue, under a grill or on a griddle pan on the stove.
Cook your burgers for 12-15 minutes turning half way through, making sure they are cooked throughout. 2 minutes before the end of cooking, add the Lancashire cheese and leave to melt a little. Lightly toast your buns.
Place some of the crunchy little gem on the base of the buns, top with sliced tomato, then add your cheesy chilli burger, a dollop of burger relish (if you like) and finally add the bun crown.
Sit back and enjoy!