Pomodorina Sauce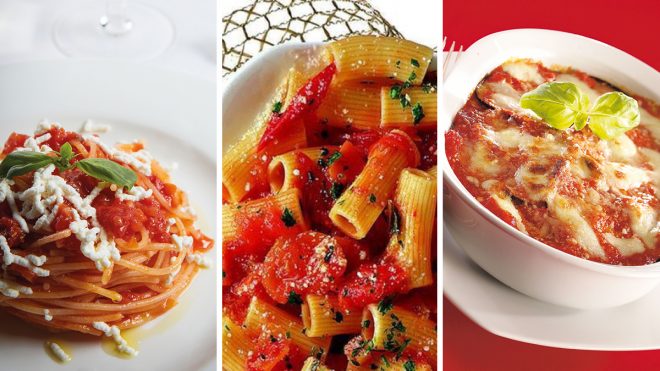 6 servings
Varies to prepare
Ingredients
Spaghetti with Pomodorina & Fresh Ricotta Cheese
500g spaghetti
500g Pomodorina sauce
Drizzle of olive oil
Fresh basil
Fresh ricotta cheese
Rigatoni with Pomodorina
500g Rigatoni pasta
500g Pomodorina sauce
30g fresh parsley
100g Parmmigiano Reggiano cheese
Aubergines "Alla Pamigiana"
1kg aubergines
400g mozzarella cheese
450g Pomodorina sauce
400g Parmigiano Reggiano cheese
150g flour
50g basil
Sea salt
Olive oil
Instructions
Spaghetti with Pomodorina & Fresh Ricotta Cheese – Serves 6
Cook the spaghetti in boiling salted water.
Once cooked al dente, drain and place in a pan with the Pomodorina sauce and warm through.
Flavour with a few basil leaves and a drizzle of olive oil.
Finish the dish with fresh ricotta as desired.
Rigatoni with Pomodorina – Serves 6
Cooked the rigatoni in boiling salted water, keeping it al dente.
Meanwhile, in a pan heat up the Pomodorina sauce, adding some chopped basil leaves.
Add the rigatoni to the sauce and mix through adding the parsley.
Serve with a s generous sprinkling of Parmigiano Reggiano cheese.
Aubergines "Alla Pamigiana" – Serves 6
Vertically slice the aubergines and place on a tray. Scatter with sea salt and leave to one side for up to an hour.
Wash the aubergines and dry with kitchen paper. Coat them in flour and deep fry them in oil. Once golden, remove from the oil and drain on kitchen paper.
Pre-heat the oven to 200°C/180°(fan)/gas mark 6.
In an oven-proof dish, spread a layer of Pomodorina, followed by a layer of aubergines, slices of mozzarella and some fresh basil. Add a sprinkle of salt and some Parmigiano Reggiano cheese. Repeat the process until all of the ingredients have been used, spreading the Pomodorina sauce on last.
Add a few chunks of mozzarella on top and a generous sprinkle of Parmiginao Reggiano.
Cook in the oven at for around 30 minutes, until the cheese is golden.
Remove from the oven and decorate with fresh basil.