Goats' Cheese, Sage & Chorizo Gnocchi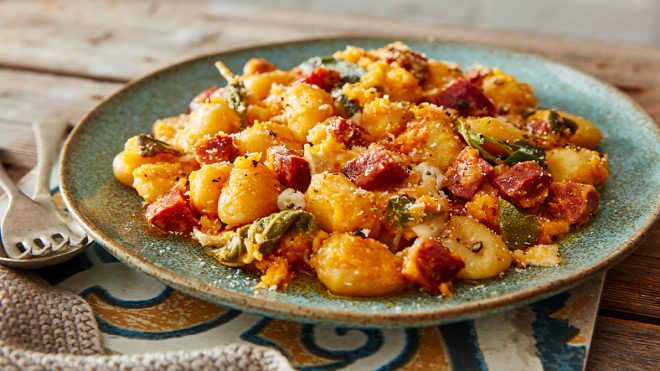 4 servings
1hr 15mins to prepare
Ingredients
1 butternut squash, roasted whole
1/2 spicy chorizo ring, diced
2 garlic cloves, finely diced
Bunch of fresh sage leaves, finely chopped
70g soft goats' cheese
1 pack of fresh gnocchi
To Serve
Grated Parmesan to taste
Instructions
METHOD
Remove the seeds of the roasted squash and discard. Scoop out the filling and roughly mash with a fork in a bowl.
Fry the chorizo on a medium to high heat for a few minutes in a large pan until it releases the oils. There's no need to add extra oil to the pan.
Add the garlic and sage to the chorizo and stir for a minute so as to not burn it.
Add in the mashed squash and stir for a minute.
Turn the heat down, add the goats' cheese and leave to melt a little while you prep the gnocchi. Stir occasionally to make sure it doesn't stick in the pan, turn the heat off if you need to.
Boil your gnocchi in lightly salted water. Add a splash of the gnocchi water to the butternut squash mixture if it needs loosening.
Drain the gnocchi and add to a frying pan with a drizzle of oil until golden and crisp.
Mix the gnocchi with the butternut squash mixture.
Finish with a generous grating of Parmesan.
Fancy having a go at making your own Gnocchi? Try this recipe here from The Boho Baker!