Smoky Baked Eggs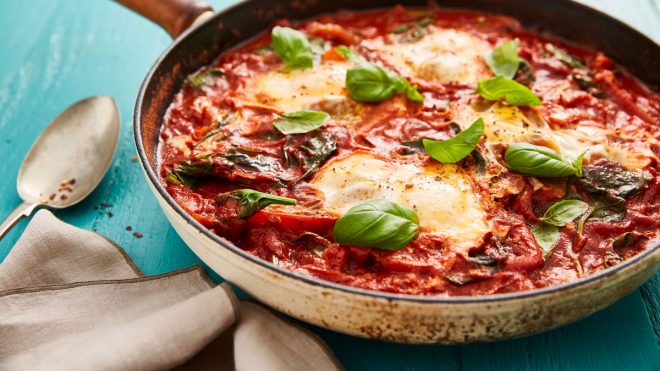 4 servings
30 minutes to prepare
Ingredients
1tbsp olive oil
1 red onion, sliced
1 red pepper, sliced
2 garlic cloves, sliced
2tbsp smoked paprika
1/2tsp chilli flakes
75g tomato puree
2 tins chopped tomatoes
50g spinach leaves
250ml vegetable stock
Salt & pepper
4 eggs
Instructions
This quick one pot vegetarian smoky baked eggs recipe is packed full of flavour.
Method
Heat the oil in a large sauté pan. Sauté the onion and red pepper for 5 minutes.
Add the garlic and sauté for 1 minute.
Add smoked paprika and chilli flakes and cook for 1 minute.
Add the tomato puree and cook for 1 minute.
Add the tinned tomatoes, spinach and stock to the pan, bring to a simmer and cook for 5 minutes. Season to taste.
Crack each egg into the sauce. Place a lid on the pan and simmer for 10 minutes or until the eggs are cooked.
Remove from the heat and garnish with chopped basil.
Serve and enjoy!
Chefs Tip
This is a great dish served with crusty bread. Bring the pan to the table and allow guests to help themselves. To turn this into an even heartier dish, add a pack of cooked puy lentils when adding the tinned tomatoes.