Beach Fun Cupcakes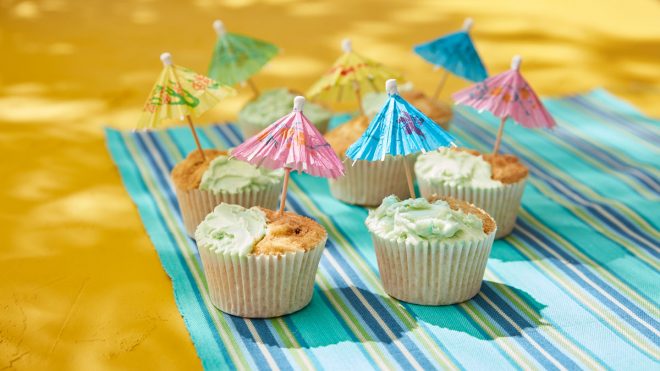 12 servings
1 hour to prepare
Ingredients
For the cupcakes
175g margarine
175g caster sugar
175g self raising flour
3 eggs
2tsp vanilla essence
For the buttercream
100g butter, softened
200g icing sugar
1/2tsp vanilla essence
Blue food colouring
To decorate
25g light muscovado sugar
12 umbrellas (optional)
Instructions
Delightfully whimsical beach cupcakes, super easy to make with the kids (supervised of course.) If children are quite young we'd recommend leaving out the cocktail umbrellas.
Method
To make the cupcakes
Pre-heat the oven to 160°C(fan)/350°F/gas mark 4.
Line a 12-hole muffin tin with paper muffin cases.
Place the margarine, sugar, flour, eggs and vanilla essence into a mixing bowl. Beat to combine using an electric mixer.
Divide the mix evenly between the muffin cases.
Bake in the pre-heated oven for 25-30 minutes.
To check the cupcakes are cooked, insert a skewer into the centre, it should come out clean when cooked.
Remove and allow to cool for 10 minutes before placing on a cooling rack to cool completely.
To make the buttercream
Place the softened butter into a large mixing bowl, sift the icing sugar into the bowl. Add the vanilla essence and beat to form a smooth icing.
Divide the buttercream into 2 bowls and colour one bowl using blue food colouring.
To decorate
Spread half of each cupcake with the white buttercream. Dip the top of each cupcake into the Muscovado sugar to create your sandy beach.
Spread the second half with the blue buttercream and peak to form waves.
Decorate each cupcake with an umbrella to create your beach scene (optional).
Chefs Tip
If you're feeling adventurous you could add a hidden raspberry jam middle!