Thai Beef & Broccoli Stir Fry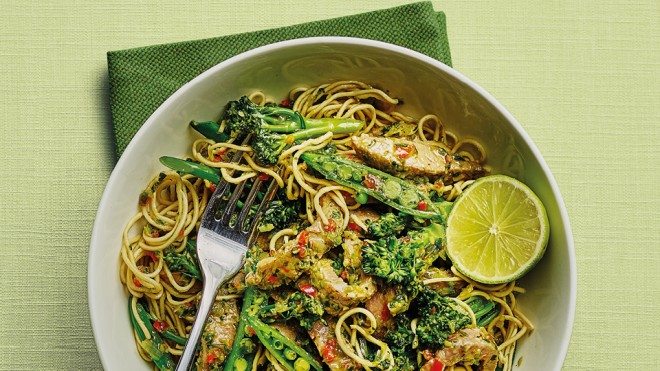 4 servings
Cook 15 mins, 20 mins to prepare
Ingredients
200g fine egg noodles
3cm piece fresh ginger, peeled
1 lemon grass, roughly chopped
1 red chilli, halved
25g fresh coriander
1 bunch spring onions, trimmed
1 clove garlic
1tbsp sunflower oil
300g tender stem broccoli, halved lengthwise and trimmed
100g sugar snap peas, sliced in half lengthwise
300g leftover roast beef, cut into strips
2bsp soy sauce
1tbsp sweet chilli sauce
2 limes, halved
Instructions
1 Place the noodles in a large bowl and pour over boiling water from the kettle, leave to stand and soak for 10 minutes.
2 Meanwhile, place the ginger, lemon grass, chilli, coriander, spring onions and garlic into a food processor and blitz until you have a coarse paste.
3 Heat the sunflower oil in a wok or large frying pan, add the paste and cook for 1 minute stirring well as it cooks.
3 Add the broccoli and sugar snap peas, stir well with the paste and cook for 5 – 6 minutes adding a tablespoon of water to the pan whilst cooking until the vegetables are tender.
4 Add the soy sauce and sweet chilli sauce, toss well and add the beef. Cook for 1 minute longer.
5 Drain the noodles and add to the pan. Remove the pan from the heat and toss the noodles, beef, sauce and vegetables together well.
Serve in deep bowls with a halved wedge of lime.
LOVE YOUR LEFTOVERS
If you are going to store leftover roast to make this recipe, cool it as quickly as possible (ideally within 90 minutes) cover it and place into the fridge. Always use your leftovers within two days of storage. Ensure you cook this recipe until it's steaming hot throughout and importantly, never reheat leftovers more than once.