Watercress & Roast Garlic Soup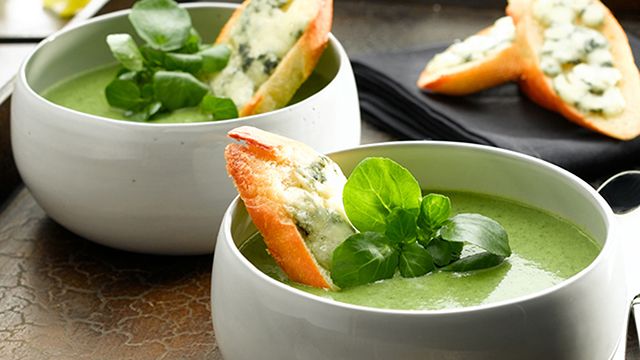 4 servings
50 mins to prepare
Ingredients
1tbsp Booths Extra Virgin Olive Oil
1tbsp Booths Farmhouse Butter
1 medium onion, finely chopped
1 medium potato, peeled & cubed
150g watercress, remove leaves from stalks
2-3 garlic cloves, roasted (to taste)
1tsp of vegetable bouillon to make 500ml vegetable stock
200ml Booths semi-skimmed milk
1/2 lemon, squeezed (to taste)
Salt & pepper
Instructions
To roast the garlic simply peel, then wrap in tin foil with a little drizzle of olive oil and roast in the oven for 20 minutes.
To make the soup, heat the olive oil and butter in a medium sized saucepan and gently fry the onions until soft but not browned.
Add the potato and watercress stalks and continue frying for 2 minutes. Then add the stock and milk, bring to the boil and simmer gently for 10 minutes until the potatoes are soft.
Pour the soup into a blender then add the watercress leaves and roasted garlic and liquidize until smooth. Next, transfer back to the pan, season with fresh lemon juice, salt and milled pepper and serve in warm bowls with Roquefort cheese slices.
Add pepper to required taste.
Take a look at our other soup recipes: