Watercress and Stilton soup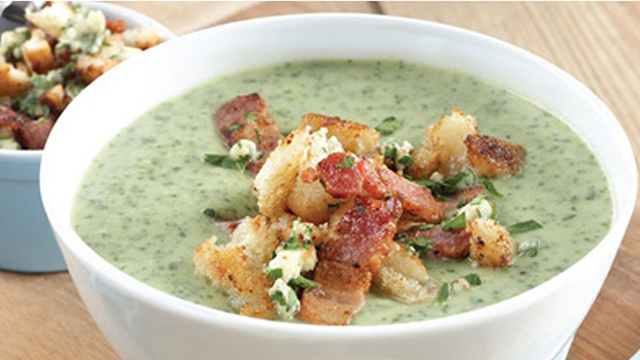 4 servings
40 mins to prepare
Ingredients
For the soup
300g watercress, washed and drained
3 shallots, chopped
2 garlic cloves, chopped
450g new season potatoes, peeled and diced
80g stilton cheese
50g butter
1.2 litres chicken or vegetable stock
Grated nutmeg
For the topping
1tbsp Booths Italian olive oil
2 rashers of streaky bacon, finely chopped
100g torn bread
10g stilton, crumbled
Instructions
In a large saucepan, gently cook the shallots and garlic in the butter, stirring until softened for about five minutes without browning. Add the potatoes and stock and simmer for 15 minutes.
Meanwhile, in a frying pan, cook the bacon in the olive oil until it begins to crisp. Add the torn bread, cook until the bread is crisp and golden then remove from pan.
Add the watercress, stilton and grated nutmeg to the soup. Blend the mixture with a hand blender until smooth, then season with salt and freshly milled pepper.
Pour the soup into bowls and top with remaining stilton and crispy bacon bits.
Serve with warm, crusty bread.