Trio Of Canapes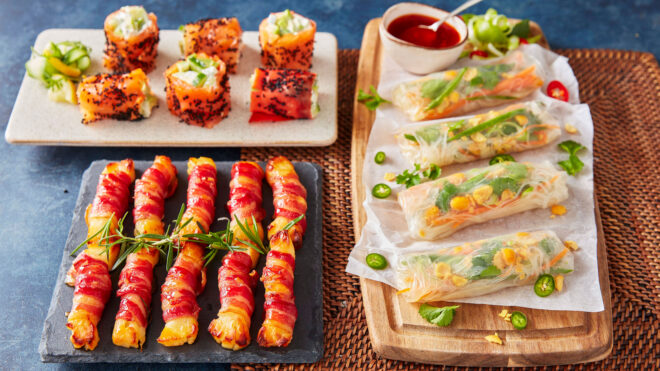 4 servings
15 minutes to prepare
Ingredients
Vietnamese Peanut Rolls:
65g fine rice noodles (1 nest)
2tbsp soy sauce
2tbsp rice wine vinegar
2tbsp sesame oil
2 spring onions, finely chopped
1/2 carrot, grated or cut into fine strips
8-10 mange tout peas, cut into very fine strips
70g chilli-roasted peanuts, roughly chopped
Handful of fresh coriander, roughly chopped
8 rice paper spring rolls
Bacon and Halloumi:
250g block halloumi cheese
10 rashers pancetta or smoked streaky bacon
1tbsp chopped rosemary
1tbsp maple syrup
Tzatziki, Avocado and Salmon Rolls
400g smoked salmon
4tbsp tzatziki
1/2 avocado, sliced
1/4 lime, juice
2tsp nigella seeds
Instructions
Vietnamese Peanut Rolls
Method:
Boil the noodles according to packet instructions, then drain, rinse with cold water and place in a bowl. Drizzle the soy sauce, rice wine vinegar and sesame oil over the noodles and toss to combine, then set aside.
Prepare your spring roll wrappers one at a time by soaking them in hot water for 10-15 seconds until pliable. Carefully, lift out and spread out on a dampened tea towel. Divide the noodles, spring onions, carrots & mange tout evenly between the wrappers, then sprinkle over the peanuts and coriander.
To roll, fold up the bottom edge to cover the fillings, then fold in both sides. Take the bottom edge and simply roll it up – the rice paper will stick everything together and keep all the fillings safely tucked inside.
Repeat for the other 7 rolls and serve. These can keep for up to a day in the fridge so you can prepare ahead if you have guests.
Chefs Tip:
There's no need to worry about being neat as they will look fabulous when rolled.
Bacon and Halloumi
Method:
Heat oven to 200°C/180°C Fan/400°F/Gas Mark 6. Cut the halloumi into 10 sticks. Wrap each stick with a rasher of bacon, drizzle the maple syrup over and a sprinkling of chopped rosemary.
Bake for 10-12 mins or until the bacon is brown and beginning to crisp.
Chefs Tip:
You can use honey if you prefer, and why not try hot honey (honey with chilli)?
Tzatziki, Avocado and Salmon Rolls
Method:
Layer thin slices of smoked salmon on a board and take a spoonful of tzatziki and place in the middle of the salmon.
Place a couple of slices of avocado on top with a drizzle of lime juice and roll the salmon.
Trim the edges of the salmon roll just to neaten and sprinkle the nigella seeds on top.
Chefs Tip:
Sour cream and chive with cucumber tastes just as good.