Tartiflette with Jersey Royals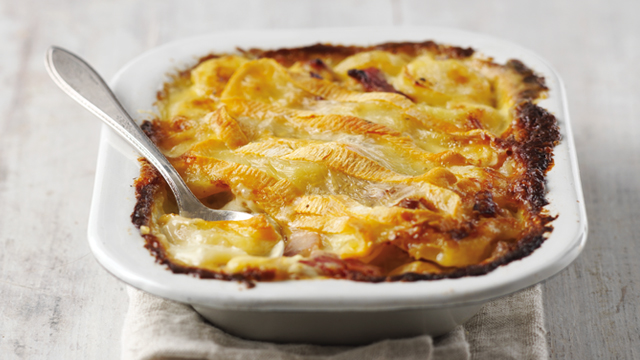 4 servings
20 minutes to prepare
Ingredients
1kg Jersey Royal potatoes, peeled
1-2tbsp olive oil
250g streaky bacon, chopped
1 large onion
2 garlic cloves, crushed
120ml white wine
200ml double cream
1 whole reblochon cheese, sliced
1tbsp chopped parsley
Butter for greasing
Instructions
Preheat the oven to 190ºc / gas 5.
Cover the potatoes in salted cold water, bring to the boil and cook for 5 minutes then drain. Leave the potatoes to cool in their own steam.
Next heat a frying pan, add the olive oil and cook the bacon until golden and crisp, then remove from the pan. Add the onion and cook until soft and a little brown on the edges then add the garlic and cook for 1 minute before deglazing the pan with the white wine. Let the wine reduce a little and remove from the heat.
Slice the potatoes and place half into a buttered gratin dish with a little milled pepper but no salt (as the bacon and cheese can be quite salty). Next sprinkle over half of the bacon and half of the onion mixture. Repeat the layering with the remaining potatoes, bacon and onions, leaving a few potatoes for the top. Pour over the cream, arrange the sliced reblochon cheese, sprinkle over the parsley and bake for about 25-30 minutes until the cheese is golden.