White Bean Soup with Bacon & Croutons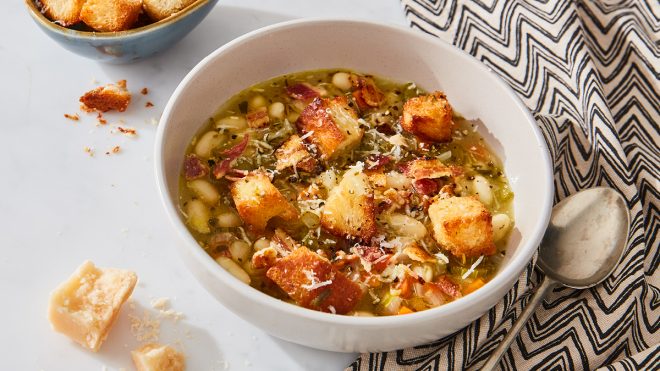 4 servings
15 mins to prepare
Ingredients
For the soup
1 small white onion
1 small carrot
1 small stick of celery
25g butter
1 garlic clove, crushed
1/4 tsp mixed herbs
300ml vegetable stock
1 tin of cannellini beans
Salt and pepper
2 rashers of bacon
For the croutons
1 stale sourdough, diced
1 tbsp olive oil
Parmesan to taste
1 tsp parsley
Instructions
METHOD:
Finely dice the onion, carrot and celery.
Melt the butter in a saucepan and add the diced veg and cook gently until soft.
Add the crushed garlic and mixed herbs.
Add the veg stock, the tin of beans (including the liquid) and bring to a simmer for 15 minutes. Season to taste with salt and pepper.
Fry off the streaky bacon until crispy.
For the croutons, mix the diced sourdough with the olive oil and bake in the oven at 200°C/180°C fan/400°F/ gas mark 6 for 6-8 minutes until golden brown.
Toss the croutons with the Parmesan whilst still hot and allow to cool.
Serve the soup with extra shavings of Parmesan, crumbled bacon, a handful of croutons and chopped parsley.