Coley Spring Chowder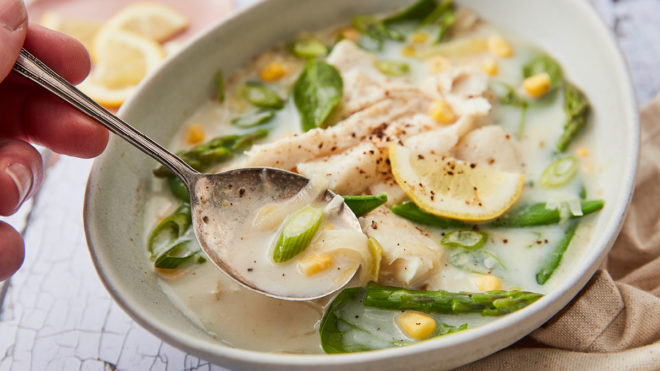 4 servings
10 mins to prepare
Ingredients
A drizzle of olive oil
1 onion, sliced
1 leek, sliced
50ml white wine (optional)
1 tbsp plain flour
500ml fish stock
400g coley fillet, skin removed and pin boned
1 corn on the cob
75g asparagus, halved
75g sugar snap peas
2 spring onions, sliced
300ml whole milk
50g baby spinach leaves
Salt and pepper
1 lemon, sliced
Instructions
METHOD
1 Heat a drizzle of olive oil in a large saucepan. Add the onion and leek and sauté for 5 minutes.
2 Add the white wine and cook for one minute.
3 Add the flour, stir well and cook for one minute.
4 Add the fish stock and bring to a simmer. Add the coley and simmer for 5 minutes.
5 Remove the kernels from the corn on the cob and add with the asparagus, sugar snap peas, spring onion  and milk. Cook for 3 minutes.
6 Add the spinach leaves and cook for 1 minute.
7 Check the coley is cooked through, season to taste with salt and pepper and spoon into warmed serving bowls. Garnish with sliced lemon.
CHEF'S TIP This is a great base chowder recipe. Swap coley for cod or salmon and garnish with chopped smoked salmon for a change.