Asparagus Tart with Black Olive Dressing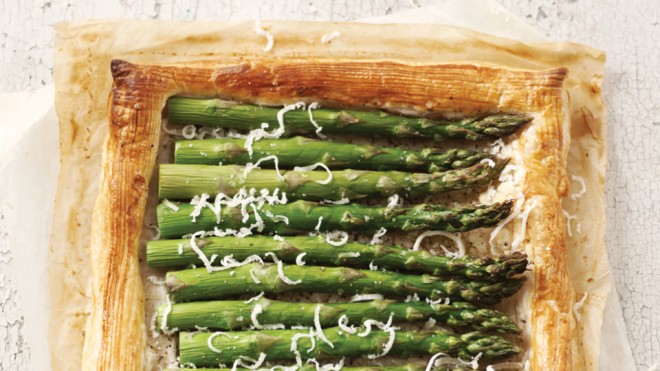 6 servings
1 Hour 15 Minutes to prepare
Ingredients
1 packet ready-to-roll puff pastry
20 asparagus spears
250g mascarpone
1 bunch spring onions, finely chopped
20g butter
Grating fresh nutmeg
1 free range egg, beaten
For the Dressing
100g pitted black olives
1tbsp capers
1tbsp extra virgin olive oil
Squeeze lemon juice
Instructions
1 Pre-heat the oven to 190°c / gas mark 5.
2 Wash the asparagus and using your hands bend and snap off the woody end, then trim with a knife to neaten off. Cook the asparagus spears in boiling water for 30 seconds and re-fresh under cold water. Drain on kitchen roll.
3 Roll out the pastry on a floured surface, into a large rectangle roughly 20 x 30cm to about the thickness of a pound coin. With a small knife, score a 3cm border around the edge of the pastry, being careful not to cut all the way through.
4 Place the pastry onto a baking sheet and bake until the pastry is well risen and starting to colour (approximately 20 mins). Remove from the oven and cool. Once cool press the centre down, leaving the outer edge puffed up – much like a vol-au-vent.
5 In a small pan gently fry the spring onions in the butter until soft. Leave to cool.
6 In a small bowl mix the mascarpone and spring onions together. Spread the mixture over the pastry base, grate a little nutmeg on top, then place the asparagus neatly over. Brush the edges of the pastry with the beaten egg, place onto a baking sheet and cook for 20-25 minutes until the pastry has puffed up and become golden brown.
7 Whilst the tart is cooking, make the dressing by simply popping all the ingredients into a food processor and blitz until smooth. Serve a slice of the tart with a spoonful of the dressing, some new potatoes and a crisp salad.