Shaved Asparagus and Pine Nut Salad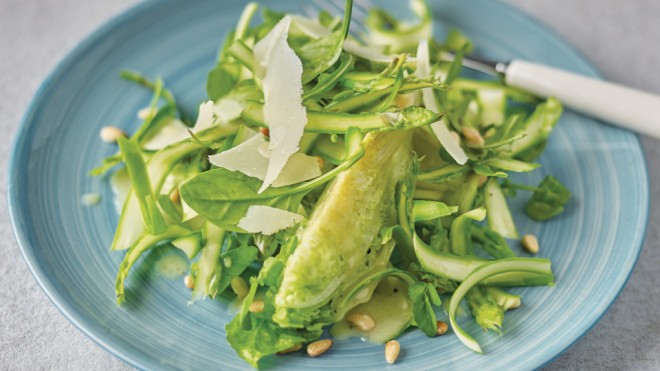 4 servings
15 Minutes to prepare
Ingredients
200g asparagus spears
60g baby spinach leaves
60g wild rocket leaves
2 baby gem lettuce, each cut into 4 wedges
25g pine nuts, toasted
2tbsp extra virgin olive oil
Juice 1 lemon
1tsp Dijon mustard
Instructions
1 Wash the asparagus and using your hands bend and snap off the woody end, then trim with a knife to neaten off.
2 Using a vegetable peeler, cut thin strips from the asparagus spears and place in a large bowl. Toss with the spinach and rocket leaves.
3 Arrange wedges of the baby gem lettuce on serving plates and top with a pile of the shaved asparagus and leaf mixture. Sprinkle over the pine nuts.
4 Mix together the olive oil; lemon juice and Dijon mustard with a pinch of salt and some ground black pepper and spoon over the salad to serve.