Asparagus & Parma Ham Pastries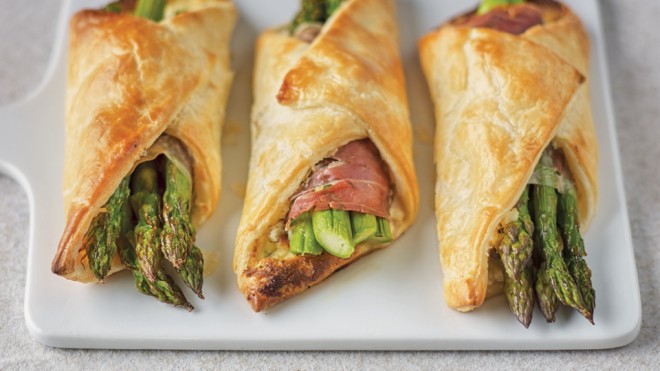 4 servings
40 Minutes to prepare
Ingredients
Plain flour, for dusting
375g ready-rolled puff pastry
150g cream cheese
Pack Parma ham
400g asparagus
1 medium free range egg
Instructions
1 Preheat the oven to 200ºC / fan 180ºC / gas mark 6. Line a baking tray with a sheet of parchment paper. Dust a work surface with a little flour and unroll the pastry. Cut the pastry into four.
2 Wash the asparagus and using your hands bend and snap off the woody end, then trim with a knife to neaten off.
3 Divide the cream cheese into four, and spread onto the top of each pastry piece. Wrap a slice of Parma ham around a bundle of 4-5 asparagus spears. Lay the bundle on top of the cream cheese in the centre, then brush the edges of the pastry with a little beaten egg.
4 Bring the edges of the pastry loosely over the asparagus bundle to meet in the middle, leaving the tops and bottom of the asparagus showing. Brush the top of the parcel with beaten egg and then place onto the baking tray. Bake for 20 – 25 minutes until the pastry is cooked, golden and puffed and the asparagus is tender. Serve immediately with a crisp, seasonal salad.