Pear, Blue Cheese and Prosciutto Soda Bread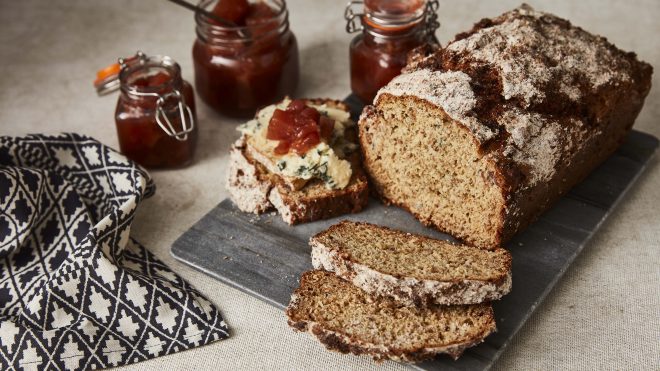 6 servings
1 hour to prepare
Ingredients
300g Plain flour
200g Wholemeal
1tsp Salt
1 ½ tsp Bicarbonate of soda
200g Pears, grated
100g Blue cheese, diced
50g Prosciutto, diced
200ml Milk
200g Plain yoghurt
1tsp Honey
1 tbsp Wholemeal flour to sprinkle on top
Instructions
For anybody new to baking and wanting to have a go at making their own bread, why not try our super simple pear, blue cheese and prosciutto soda bread recipe?
Pre-heat the oven to 200°C (fan)/425°F/gas mark 7. Combine the plain and wholemeal flours, salt and bicarbonate of soda. Then add the grated pear, blue cheese and prosciutto and stir well.
Separately mix the milk, yoghurt and honey together. Make a well in the centre of the dry mixture and add the wet mixture, stir to combine.
Line a 2lb loaf tin with baking paper and spoon in the mixture.
Sprinkle the top of the loaf with one tablespoon of wholemeal flour and bake in a pre-heated oven for 45-50 minutes. Allow to cool completely before removing from the tin and slicing.
Chefs Tip –  This loaf makes a great accompaniment to a bowl of soup served warm and spread with butter. To make this loaf vegetarian swap the diced prosciutto for chopped walnuts.