Helen Prady's Gingerbread Cheesecake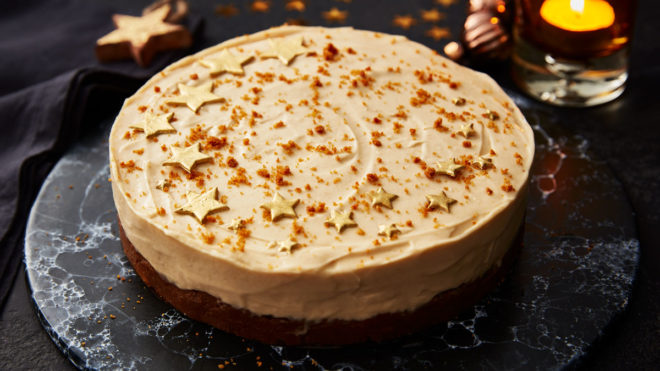 10 servings
45 minutes plus overnight chilling to prepare
Ingredients
250g gingerbread men, crushed
150g unsalted butter, melted
1 large tub, cream cheese
100g light brown sugar
100g icing sugar
300ml double cream
2tbsp golden syrup
2 or 3tsp gingerbread syrup
3tsp ground ginger
Instructions
Helen Prady is our colleague from our Carnforth store, and she has created this most delicious gingerbread cheesecake recipe, perfect as a festive dessert.
Line a 8" loose bottomed tin with greaseproof paper.
Crush all the gingerbread men into fine crumbs save 3 tsps for later.  Melt the butter and add to the crushed biscuits.
Press mixture well into the tin using the back of a spoon. Set aside for later.
Whisk the cream cheese until soft, add the brown sugar and mix well. Mix in the icing sugar, ginger syrup, golden syrup, and ground ginger then mix well.
Pour in the double cream and whisk till the mixture is light and fluffy with soft peaks.
Pour onto the crumb base. Tap the tin several times to remove all the air bubbles. Smooth the top with a palette knife.
Decorate with the spare gingerbread crumbs.  I added some gold stars for a festive look.
Chill the cheesecake overnight then serve and enjoy.