Sticky Beef Bao Buns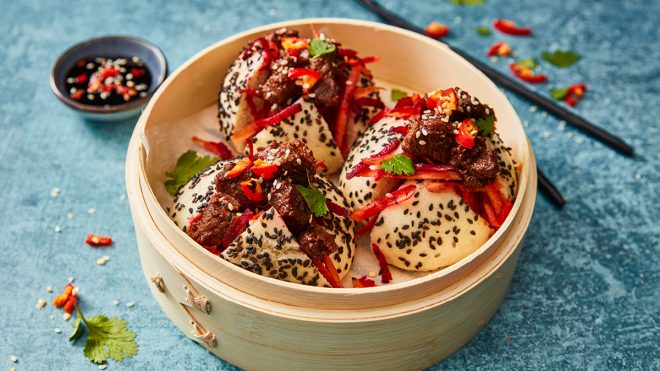 4 servings
5 1/2 hours to prepare
Ingredients
For the sticky beef
500g braising steak, diced
150g Stokes Korean BBQ Sauce
1 tsp Sambal Oelek (Indonesian chilli sauce)
1 tbsp soy sauce
1 tbsp honey
4cm ginger, peeled and grated
1 lime, juice only
3 star anise
500ml beef stock
For the bao buns
20g caster suagr
8g dried yeast
375g plain flour
20g butter, melted
1 egg white
2 tbsp nigella seeds
Extra flour for dusting
To serve
1 carrot, grated
1 beetroot, grated
1 red chilli, sliced
1 tsp sesame seeds
Coriander leaves
Instructions
METHOD
Cut each cube of braising steak in half and place in a glass bowl. Add the BBQ sauce, chilli sauce, soy sauce, honey, ginger, lime juice and star anise. Cover and marinate in the fridge for a minimum of 4 hours.
For the sticky beef, place the marinated beef into a saucepan, add the stock and bring to the boil. Reduce to a simmer and simmer for 1 and a half hours uncovered. The sauce should be reduced, rich and sticky. If the sauce is too thin, simmer for a further 30 minutes to reduce. Remove the star anise and discard.
To make the buns, place the caster sugar and yeast in a bowl. Add 250g of warm water and stir to dissolve.
 Place the plain flour into a large bowl, make a well in the centre and pour in the yeast mix and melted butter. Bring the dough together and tip onto a work surface. Knead for 5 minutes. Dust with a little extra flour if the dough is getting sticky. Shape into a ball and place into a clean bowl. Cover with cling film and leave in a warm place for 1 hour to prove.
After 1 hour divide the dough into 12 evenly sized pieces and shape into balls. Place the dough balls onto 2 baking trays lined with baking paper. Cover the dough balls with a damp tea towel and rest for 10 mintes.
Brush each dough ball with egg white and scatter with nigella seeds.
Steam the buns in a steaming basket lined with baking paper over a pan of simmering water for 15-20 minutes or until the dough bounces back when pressed (allow room for the buns to spread and cook in batches).
To serve, cut a cross in the top of each bun. Stuff with grated carrot and beetroot, add a spoonful of sticky beef and top with sliced chillies, a scattering of sesame seed and fresh coriander leaves.
CHEF'S TIP
Why not swap the beef for pork shoulder for a change? To make mini buns, divide the dough mix into 24 pieces, cook for 8-10 minutes, fill and serve as canapés.