Honey Baked Feta Salad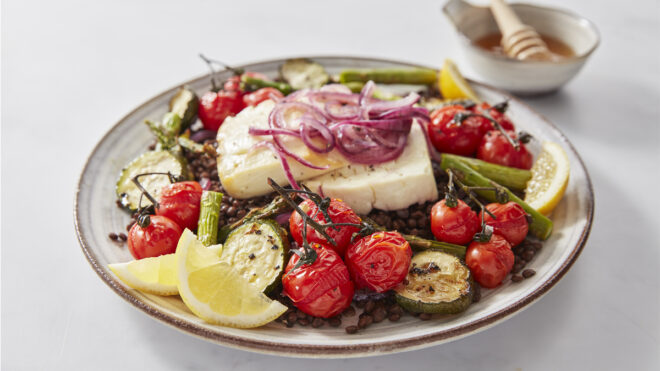 4 servings
10 mins to prepare
Ingredients
1 red onion, thinly sliced
200g Yorkshire Fettle cheese
2 tbsp honey
1 courgette sliced
225g vine tomatoes
A drizzle of olive oil
230g bunch of asparagus, sliced into 3 inch lengths
250g pouch cooked green lentils
Salt and Pepper
To Serve
A drizzle of honey
8 wedges of lemon
Instructions
METHOD
1. Pre-heat the oven to 200°C(fan)/ 220°C /425°F/gas mark 7.
2. Cut a piece of tin foil roughly A4 size and place the sliced red onion in the centre. Place the Yorkshire fettle block on top of the onions and drizzle with the honey. Bring the sides of the foil together to create a parcel. Place in the centre of a baking tray.
3. Add the sliced courgette and vine tomatoes around the foil parcel, drizzle with olive oil and season with salt and pepper.
4. Bake in a pre-heated oven for 10 minutes. Add the sliced asparagus and bake for a further 10 minutes.
5. Cook the lentil pouch as per pack instructions and spoon onto a warmed serving platter.
6. Arrange the courgette, vine tomatoes and asparagus on the platter.
7. Open the foil parcel and carefully place the Yorkshire Fettle block on top of the lentils on the platter. Scatter the red onions over the Yorkshire Fettle and drizzle with any juice from the parcel.
8. Drizzle with extra honey and garnish with wedges of lemon to serve.
Chef's Tip – This recipe works well with halloumi for a change. Cut a block of halloumi in half and use in place of the feta cheese.