Beef Wellington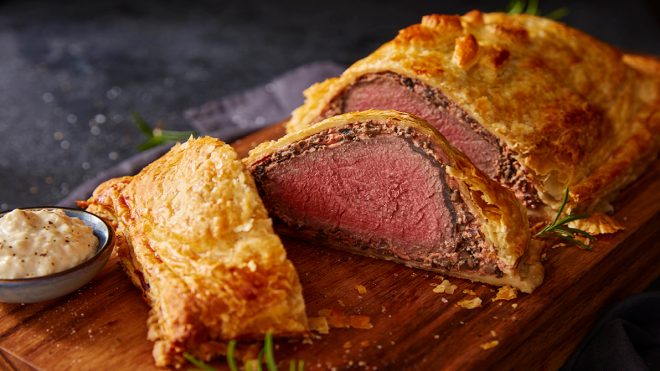 6 servings
50 minutes to cook 20 minutes to prepare
Ingredients
750g piece beef fillet
25g butter
1 onion, finely chopped
150g chestnut mushrooms, finely chopped
2 cloves fresh garlic, finely chopped
3tbsp fresh flat leaf parsley
Salt and milled black pepper
100g chicken liver pate, smooth
500g all butter puff pastry
25g plain flour
1 medium egg, beaten
Instructions
1 Heat the butter in a large frying pan and cook the onion for 5 minutes until beginning to soften. Stir in the garlic and parsley and season with a little salt and plenty of milled black pepper. Add the mushrooms and cook for a further 5 minutes until soft and creamy. Set aside to cool.
2 Beat the pâté into the mushroom mixture and set aside.
3 Pre-heat the oven to 180ºC/fan 200ºC/gas mark 6. Cut the puff pastry in half and place one half on a lightly floured surface and roll out to a sheet measuring about 30cm x 20cm. Place on a baking tray lined with parchment paper. Spread half the mushroom and pâté mixture down the centre of the pastry and then place the fillet of beef on top. Spread the rest of the mushroom mixture over the top of the beef to cover.
4 Roll out the remaining half of pastry on the floured surface to about 35cm x 25cm. Brush the edges of the base pastry with the beaten egg and then place the top sheet of pastry on top, pressing down well and pinching the edges to seal. Cut decorative leaves from off-cut pieces of pastry. Brush the pastry all over with the remaining egg, decorate with the leaves and chill for 10 minutes.
5 Bake for 40 minutes until the pastry is golden and puffed up. Transfer to a serving board and leave to stand for 10 minutes. Cut into thick slices to serve.