Teriyaki Beef and Rice Noodle Salad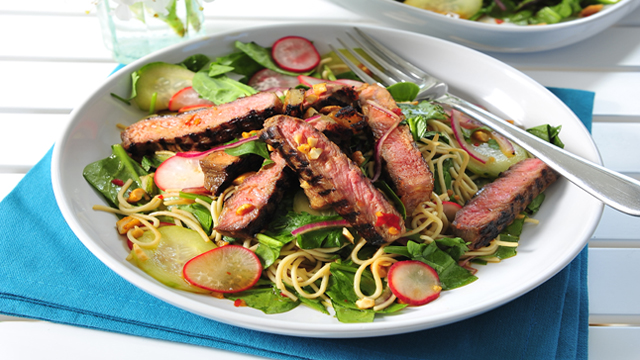 2 servings
40 minutes to prepare
Ingredients
Main Ingredients
2 x 8oz sirloin steaks
2tbsp teriyaki sauce
For the noodle salad
150g cooked fine egg noodles
½ cucumber, peeled and thinly sliced
5 radishes, thinly sliced
½ red onion, finely sliced
50g baby spinach, shredded
10g fresh mint and coriander, roughly chopped
2tbsp rice wine vinegar
1tbsp sweet chilli sauce (optional)
1tbsp soy sauce
1tsp caster sugar
1tbsp olive oil
1tbsp chopped roasted peanuts
Instructions
Place the steaks onto a plate and brush the teriyaki marinade all over, leave to marinade for about 2 hours (longer if possible).
For the salad, place the slices of cucumber, radish and red onion into a shallow dish. Mix the rice wine vinegar and caster sugar together and pour over the cucumber, leave for about 20 minutes to pickle a little. When ready remove the vegetables from the vinegar and place them into a large mixing bowl.
In a small bowl add half of the pickling vinegar and whisk with the soy sauce, sweet chilli sauce and olive oil.
Cook the steaks on the BBQ, griddle* or grill for 4-5 minutes on each side then leave to rest on a warm plate whilst you finish the salad.
Add the noodles, spinach and fresh herbs to the pickled vegetables, then pour over the salad dressing and mix thoroughly.
Divide the salad between your serving plates. Slice the steak thinly and place on the salad. Finish with a scattering of chopped roasted peanuts and enjoy.