Beef Ragu Pancake Cannelloni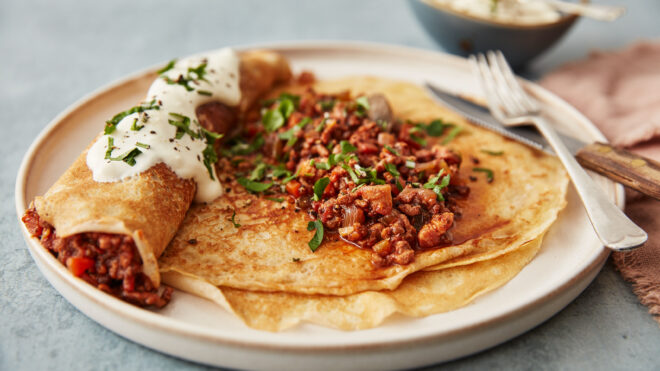 4 servings
1 hour 20 minutes to prepare
Ingredients
For the Filling
2tbsp olive oil
1 large onion, finely chopped
70g smoked, cubed pancetta
2 cloves garlic, finely chopped
1 carrot, grated
1 stick celery, finely chopped
500g minced beef
2tbsp tomato puree
400g can chopped tomatoes
300ml beef stock
400g chestnut mushrooms, chopped
For the Topping
300ml creme fraiche
25g Parmesan cheese, finely grated
Instructions
If you're making your pancakes from scratch for this recipe, you might want to prepare your batter before beginning so it has time to rest. Find our perfect pancake recipe by clicking here.
Heat half of the olive oil in a casserole dish, add the onion and pancetta and cook for 4-5 minutes until the onion is starting to soften and the pancetta is golden.  Add the garlic, carrot and celery and cook for a further 2 minutes. Tip in the mince and cook until browned.
Stir the tomato purée into the beef mixture, cook for 1 minute. Tip in the tomatoes and beef stock, stir well and simmer gently. Heat the remaining oil in a frying pan and cook the mushrooms for 4-5 minutes until golden. Stir into the beef ragu and simmer for 35 minutes until reduced and thickened. Remove from the heat.
Whilst the ragu is cooking, prepare 8 pancakes, either using your favourite recipe or store bought (plain) ones. Find our recipe by clicking here.
Preheat the oven to 200°C / fan 180°C / gas mark 6. To assemble, place 1 pancake onto a chopping board and spoon 2–3 tablespoons of ragu down the centre. Tuck in the ends, roll up carefully then place (join side down) in a large ovenproof dish. Repeat with the remaining pancakes and filling.
Spoon the crème fraîche into a bowl, add 3-4 tablespoons of water and stir. Pour tover the pancakes and sprinkle with grated Parmesan. Bake for 20 minutes until golden and serve immediately with a mixed crunchy leaf salad.