Perfect Pancakes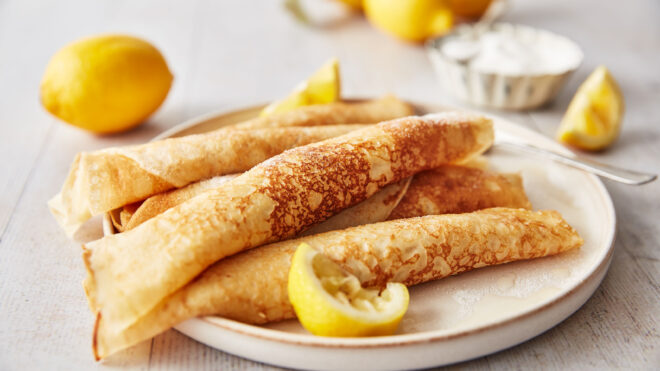 12 servings
50 minutes to prepare
Ingredients
FOR STANDARD PANCAKES
100g plain flour
2 large free range eggs
300ml milk
Pinch Salt
Vegetable oil for frying
FOR GLUTEN-FREE PANCAKES
100g gluten-free plain flour
Pinch salt
1 egg
250ml milk
1tbsp oil
butter for frying
Instructions
1 Place the flour and salt into a bowl and make a well (hole) in the centre. Crack the eggs into a jug with the milk and beat, then pour this slowly into the flour well. Draw the flour gradually into the middle whisking all the time until you have a smooth, pourable batter the consistency of single cream. Cover and refrigerate for 30 minutes (if you have time), this allows the starch in the flour to swell and produces an even textured pancake.
2 Using kitchen paper, coat the inside of a heavy-based shallow frying pan with a small amount of the vegetable oil. Pour a small ladleful of the pancake mixture (about three tablespoons) into the pan, swirling the mixture around to form a thin layer that coats the base. Cook for about 30 seconds until the pancake begins to set and is golden. Carefully, using a spatula or palette knife, flip the pancake over to cook the other side for a further 30 seconds until golden and crispy on the edges.
3 Slide the pancake onto a warm plate and repeat with the remaining mixture, layering up the pancakes between baking paper.
4 Pile high with your chosen sweet or savoury toppings and enjoy.
PERFECT GLUTEN FREE PANCAKES
1 Place the flour and salt into a mixing bowl and make a well.
2 Break the egg into the well and whisk lightly.
3 Slowly add the milk whisking all of the time to prevent lumps.
4 Add the oil and whisk to combine.
5 Heat a non-stick frying pan over a medium heat. Add a little butter and allow to melt.
6 Pour a ladle full of batter into the pan and cook for 3-4 minute or until golden brown. Flip the pancake and repeat.
7 Repeat to use all of your batter.
CHEF'S TOP TIPS FOR TWISTS & TOPPINGS
Zesty
Add the zest of an orange to the batter and serve with orange segments and sugar, or add a teaspoon of caramel flavouring and serve with sliced banana, a drizzle of caramel sauce and a sprinkling of sea salt.
Persian Style Pancakes
Add ½ a teaspoon crushed cardamom seeds to your batter. Top the finished pancakes with fresh raspberries, ricotta, honey and chopped pistachio nuts for a Persian feel.
Savoury Spinach
Blitz a handful of spinach into your pancake batter in a blender to make savoury spinach pancakes.
Seasonal Rhubarb Pockets
Make the most of seasonal forced rhubarb, stew down rhubarb with some stem ginger and use to fill pancake pockets. Dust with icing sugar.