Mother's Day Hash Brown Cups with Smoked Salmon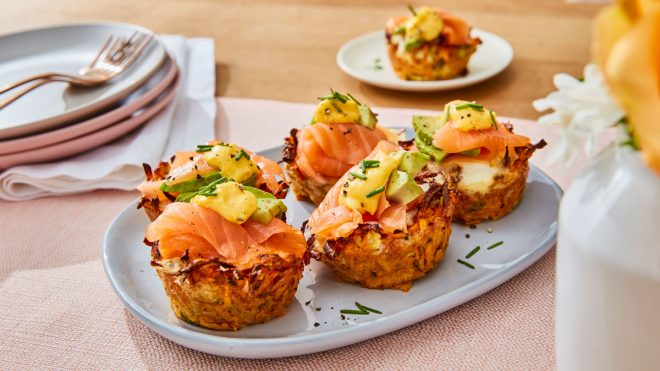 6 servings
10 mins to prepare
Ingredients
For the cups
1 sweet potato (approx. 250g), peeled and grated
4 spring onions, finely chopped
25g plain flour
1/2 tsp salt
1/4 tsp pepper
1 egg, beaten
1 tbsp chives, chopped
1/2 tbsp olive oil
A little olive oil
To serve
6 small eggs
150g smoked salmon
1 avocado, peeled, stone removed and sliced
4 tbsp hollandaise sauce
1 tsp chives, chopped
Instructions
METHOD:
Pre-heat the oven to 180°C (fan)/ 200°C/ gas mark 6.
Place the hash brown cup ingredients into a bowl and mix well.
Brush a 6 hole muffin tin lightly with olive oil. Divide the sweet potato mix between the holes. Push down the mixture to make a well in the middle and create a cup shape.
Bake in a pre-heated oven for 20 minutes. Then remove and crack an egg into each hash brown cup. Return to the oven for 8 minutes.
Remove from the oven and use a spatula to remove each hash brown cup.
To serve, top with smoked salmon, sliced avocado, a dollop of hollandaise sauce and garnish with chives.
CHEF'S TIP: Why not swap the smoked salmon for griddled slices of
halloumi cheese.