Tunisian Spicy Lamb Brik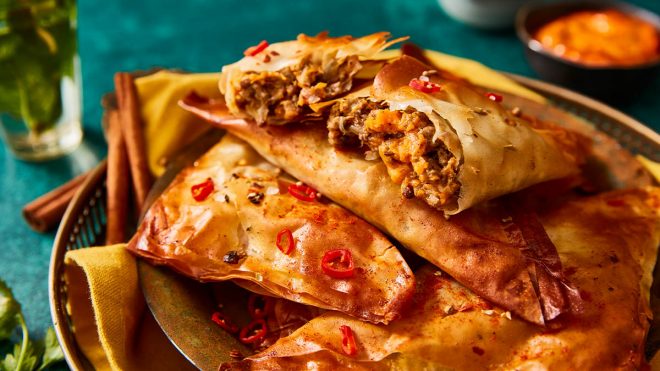 4 servings
30 mins to prepare
Ingredients
For the filling
1 small sweet potato
100g minced lamb
1 small red onion, diced
2 garlic cloves
1 tbsp veg oil
For the spice mix
1/2 tsp chilli flakes
1/2 tsp ground cinnamon
1 tsp coriander seeds
1 tsp cumin seeds
Salt and pepper to taste
1 medium free range egg, beaten
For the filo pastry
1 tsp cinnamon
150g butter
6 filo pastry sheets
Instructions
METHOD:
Pre-heat your oven to 200°C / 180°C (fan) / gas mark 6.
Wash and bake the sweet potato in its skin until cooked through
and soft.
Fry the lamb mince, onion and garlic in a little oil until brown and allow to cool.
Once the sweet potato is cool enough to handle, scoop out the middle and place in a bowl with the minced lamb. Discard the skins.
For the spice mix, crush the chilli flakes, ground cinnamon, coriander seeds and cumin seeds into a fine powder.
Add the crushed spices and the beaten egg to the lamb and sweet potato mixture and season to taste with salt and pepper.
For the filo pastry, gently melt the butter in a pan with the cinnamon.
Brush a sheet of filo with the butter and cinnamon mix and place another sheet on top. Brush again with the butter mixture and repeat again for a third sheet.
Cut the stacked filo sheets in half so they look like squares. Cover with a tea towel to stop the pastry drying out.
Repeat the whole process again with the remaining 3 sheets. You will now have 4 piles of buttered filo.
With each stack of filo, place a spoonful of lamb mixture in the centre and brush the edges with a little water. Fold in half, corner to corner to make a triangle. Repeat until all of the filo is used up.
Gently press and seal the edges.
Brush both sides with the rest of the melted butter and cinnamon mix and place on a lined baking tray and bake for 10-15 minutes until golden brown.
CHEF'S TIP Try one of these with a mug of your favourite soup.