Beef & Ale Pie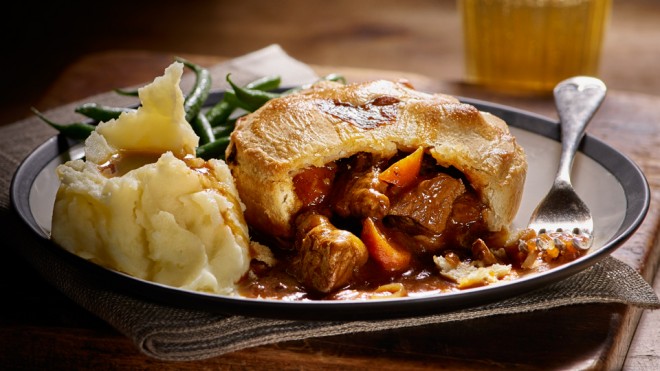 6 servings
Cook 155 minutes, 15 minutes to prepare
Ingredients
1tbsp vegetable oil
20g unsalted butter
700g braising steak, cut into 2cm cubes
2 large onions, halved and thinly sliced
3 carrots, roughly chopped
2tbsp Worcestershire sauce
2tbsp tomato purée
25g plain flour
500ml dark ale or stout
300ml hot beef stock
2tsp sugar
For The Pastry
500g ready made shortcrust pastry
1 egg, beaten for glazing
Instructions
You will need six 10cm wide by 3cm deep individual pie dishes.
1 Heat the oil and butter in a large casserole dish until the butter has melted. Brown the meat in the fat in small batches, then remove with a slotted spoon and set aside. Add the onions and carrots to the pan, fry gently for about 4 -5 minutes then add the Worcestershire sauce and tomato purée and cook for 1 minute.
2 Stir in the flour and cook for 30 seconds. Add the ale, stock and sugar, season with salt and ground black pepper. Bring to the boil then reduce the heat and simmer very gently for 2 hours until the meat is tender and the sauce is thickened and glossy. Remove from the heat and leave to cool completely.
3 Preheat the oven to 180ºC /fan 160ºC / gas mark 4. Place a baking tray in the oven to heat. Roll out half of the pastry and cut out six 14cm rounds to line the base of the individual pie dishes. Spoon in the filling.
4 Brush a little beaten egg over the edges of the pastry. Roll out the remaining pastry and cut out six 10cm rounds to make the lids for the pies, crimping the edges of the pastry with your fingertips to seal. Trim and brush the tops with beaten egg to glaze. Place on the baking tray and bake for 25 – 30 minutes until the pastry is golden and crisp. Serve with creamy mashed potatoes, green beans and extra gravy.