Mini PB&J Breakfast Puffins (Pancake-Muffin)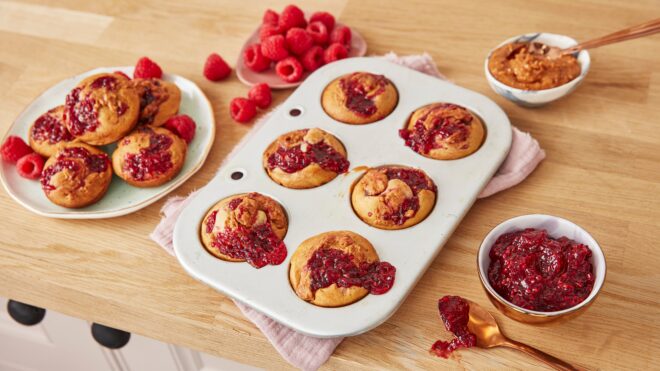 6 servings
15 mins to prepare
Ingredients
Vegetable oil, for greasing
125g plain flour
1/2 tsp baking powder
1/4 tsp bicarbonate of soda
2 tbsp caster sugar
1 large free range egg
60ml milk
2 tbsp maple syrup
25g butter, melted
Raspberry jam
Crunchy peanut butter
Instructions
METHOD
Preheat the oven to 180°C / fan 160°C / gas mark 4. Lightly grease a 6-hole mini muffin tin with a little vegetable oil.
Place the flour, baking powder, bicarbonate of soda and sugar in a bowl.
Crack the egg into a jug and whisk with the milk, maple syrup and melted butter.
Pour the egg mixture into the flour mixture and whisk in well until you have a smooth, thickened batter.
Fill each mini muffin hole half full with the mixture.
Before baking gently swirl a small amount of raspberry jam and the same of peanut butter into the top of the batter.
Bake for 10 minutes until golden and puffed up.
CHEF'S TIP
This works great with Nutella or biscoff. Just add chopped hazelnuts on top of the raw pancake mix then bake and fill with Nutella or top with a broken piece of Biscoff biscuit and fill with Biscoff spread.