Curried Scallops with Cauliflower and Samphire Risotto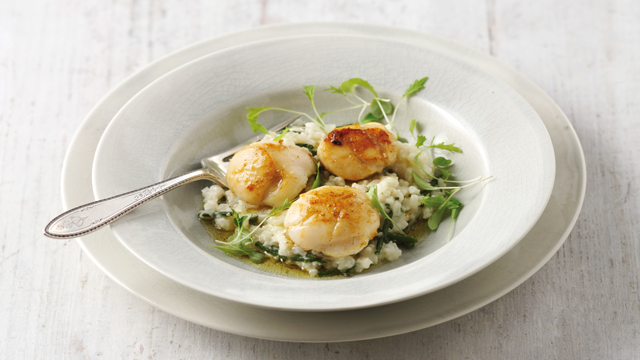 4 servings
20 minutes to prepare
Ingredients
For the Cauliflower Puree
1/2 small head of cauliflower, cut into small florets
1/2 pint of milk
Salt & pepper
For the Risotto
200g risotto rice (Arborio)
1 onion, finely chopped
1 garlic clove, crushed
120ml white wine
1ltr vegetable stock, hot
2tbsp olive oil
25g butter, chilled and cubed
20g parmesan cheese, grated
50g samphire, chopped
8 hand dived scallops (coral removed)
1tbsp medium curry powder
3 rashers of pancetta
For the Curry Oil
3tbsp olive oil
1tsp curry powder
Instructions
To make the cauliflower purée add the milk to a saucepan and bring to the boil, add the cauliflower florets and simmer for 5 minutes, drain, keeping a little of the milk. Blend the cauliflower to a purée adding a little of the reserved milk if it is too thick, season with salt and milled pepper. Place the scallops on a plate and sprinkle over the curry powder then leave to one side.
For the curry oil simply place the olive oil and curry powder in a small pan and gently heat until you can smell the curry aroma. Cook the pancetta until crisp under a hot grill, cool then finely chop.
For the risotto gently fry the onion in 1tbsp of the olive oil until soft but not coloured. Add the garlic and cook for 1 minute followed by the rice and continue frying gently for a further minute before adding the white wine. Once the wine has absorbed start adding the vegetable stock a ladle at a time. Keep adding the stock a little at a time until the rice is almost cooked but still a little crunchy, then add the cauliflower purée and continue cooking. Finally add the samphire, parmesan cheese, a little salt and milled pepper then finish with the chilled butter to enrich the dish.
Pan fry the scallops in a hot frying pan in the remaining olive oil until a nice golden colour is achieved on both sides. Make sure they are cooked through, depending on the size of your scallops this would normally be 1 minute on each side.
To serve, divide the risotto between your plates, top with the scallops, drizzle over a little of the curry oil and finish with the little pieces of crispy pancetta.