Chicken, Leek & Tarragon Pie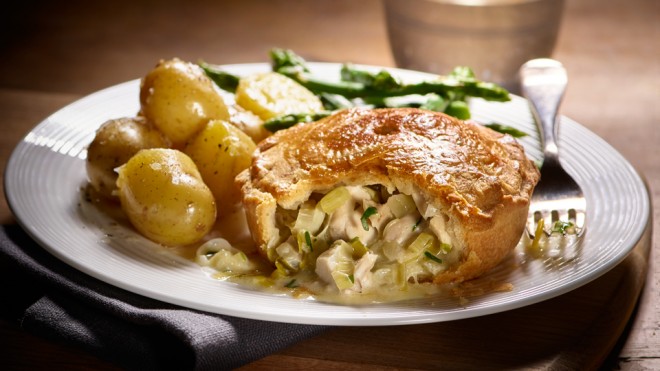 6 servings
Cook 80 minutes, 20 minutes to prepare
Ingredients
650g skinless chicken breasts
1 carrot, roughly chopped
2 celery sticks, roughly chopped
2 onions, finely chopped
4 sprigs tarragon
1tbsp olive oil
Knob of butter
2 leeks, finely sliced
150ml white wine
2tbsp plain flour
150ml crème fraiche
Grated zest of ½ a lemon
For The Pastry
500g ready made shortcrust pastry
1 egg, beaten for glazing
Instructions
You will need six 10cm wide by 3cm deep individual pie dishes.
1 Place the chicken into a saucepan with the carrot, celery, 1 of the onions and 3 tarragon sprigs. Season with a little salt and pepper and cover with cold water. Bring to the boil and simmer for 20 minutes until the chicken is cooked through. Remove the chicken from the pan and set aside to cool. Simmer the cooking liquid gently for a further 30 minutes until it is reduced by half to make chicken stock.
2 Meanwhile heat the oil and butter in a large frying pan, add the leeks and remaining onion and cook for 5 minutes until starting to soften. Turn up the heat to high, add the wine and simmer rapidly for 3 – 4 minutes until reduced. Stir in the flour and mix well. Spoon in the crème fraiche, 200ml of the chicken stock and the lemon zest. Season to taste with a little salt and ground black pepper.
3 Chop or shred the meat into pieces and add this to the leek and crème fraiche mixture along with the remaining tarragon chopped roughly. Stir together and then set aside to cool.
4 Preheat the oven to 180ºC / fan 160ºC / gas mark 4. Place a baking tray in the oven to heat. Roll out half of the pastry and cut out six 14cm rounds to line the base of the individual pie dishes. Spoon in the filling.
5 Brush a little beaten egg over the edges of the pastry. Roll out the remaining pastry and cut out six 10cm rounds to make the lids for the pies, crimping the edges of the pastry with your fingertips to seal. Trim and brush the tops with beaten egg to glaze. Place on the baking tray and bake for 25 – 30 minutes until the pastry is golden and crisp. Serve with new potatoes and new season asparagus.