Beef Lasagne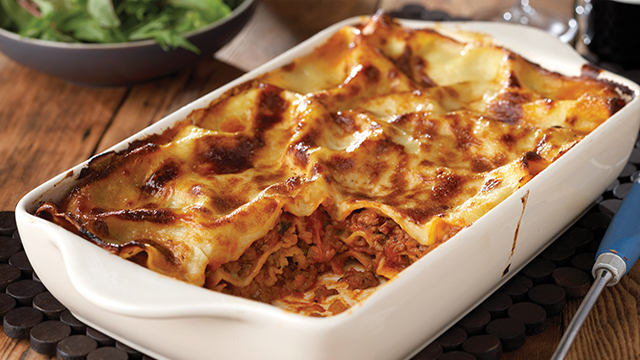 6 servings
85 minutes to prepare
Ingredients
For the filling
500g lean minced beef
2tbsp Booths extra virgin olive oil
1 large onion, finely chopped
1 large carrot, grated
1 celery stalk, finely chopped
4 garlic cloves, crushed
100g fresh oregano, roughly chopped
¼tsp nutmeg
2 400g tins of chopped tomatoes
2tbsp tomato puree
400ml hot beef stock, made from cube
1 packet of lasagne sheets, no pre-cook
100g freshly grated Parmesan cheese
For the white sauce
50g butter
50g plain flour
650ml semi-skimmed milk, warmed
¼tsp nutmeg
150g grated cheddar cheese
Instructions
Pre-heat the oven to 180°c / gas mark 4.
In a large pan, fry the onion, celery and carrot for 5 minutes over a low heat then add the garlic and continue to cook for 2 further minutes before adding the tinned tomatoes, oregano, nutmeg and beef stock then bring to a steady simmer.
Meanwhile, fry the minced beef in two batches until browned, drain off the fat juices and add to the tomato sauce. Seasoning with salt and milled pepper, simmer for 10 minutes. Finally, add the tomato puree and leave until required.
To make the white sauce, simply melt the butter in a saucepan then remove from the heat, stir in the flour and then return to a low heat and gradually add the milk a little at a time stirring continuously.
Finish the sauce, by stirring in the cheddar cheese and nutmeg set aside.
To make up the lasagne, layer up the beef mince, lasagne sheets and white sauce finishing with a layer of white sauce.
Finish by sprinkling over the Parmesan cheese and bake for 30 minutes with tin foil and a further 10 minutes without, until nicely browned.