Roast Beef Rolls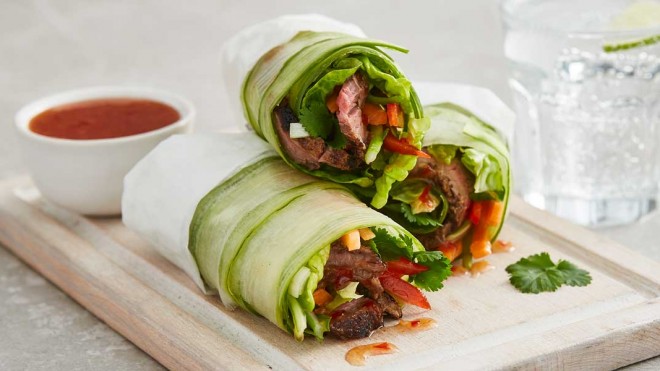 Ingredients
1 cucumber
1 carrot
4 spring onions
1 red pepper
2 little gem lettuces
150g leftover cooked beef, sliced
4tsp sweet chilli sauce
A handful of coriander
Instructions
A deliciously different way to use up your leftover roast beef!
1 Cut 4 strips of parchment paper approximately 10cm x 30cm.
2 Slice the cucumber into long ribbons using a potato peeler.
3 Cut the carrot, spring onions and red pepper into thin matchsticks.
4 Starting at one end of a parchment strip lay 6 cucumber ribbons to cover half of the paper.
5 Take 3 little gem leaves and place on top of the cucumber, then top with a ¼ of the carrot, spring onion, red pepper matchsticks and sliced beef.
7 Drizzle over one teaspoon of sweet chilli sauce and scatter over some coriander leaves.
8 Using the parchment paper to help, roll and tightly secure keeping the parchment on the outer side. Tuck in the parchment paper at one end and secure the roll with a piece of string. Repeat to make 4 rolls.
Chefs Tip
This is a great picnic snack to use up leftover roast meats and salad vegetables. Try duck and hoisin sauce or chicken with satay sauce.